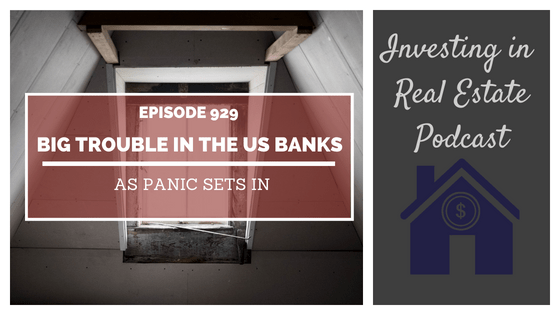 As money starts to disappear, banks are starting to collapse. This is causing panic among the people, as they worry about what will happen to their money. On this episode, I'm sharing information on bank runs and how they could affect your financial future.
You're going to hear the latest news on Silicon Valley Bank, Janet Yellen's interviews, and how the FDIC works. Most importantly, we're going to talk about the best ways to protect your wealth and your family from this broken system. Click play to learn more about trouble in the banking system.
On this episode you'll learn: 
The problem with the FDIC and the way banks work.
Four asset types that cannot be dissolved by a bank.
Why investing in tangible assets is more important than ever.
The Problem with the FDIC and the Way Banks Work
When you deposit money into a bank, you might feel confident that your money is insured, but the truth is that the FDIC only insures $250k per depositor. The FDIC has trillions of dollars to insure, but in reality they only have around $200 billion.
You may notice that there are limits to how much you can withdraw at an ATM. And if you were to try to make a large withdrawal at your local branch, you'd be quick to learn that banks don't actually have your money on hand. It takes a few days to collect large amounts of funds, and if many bank customers wanted to make large withdrawals, the banks could quickly be in trouble.
Four Asset Types That Cannot be Dissolved by a Bank
Real estate
Gold
Silver
Precious art
Why Investing in Tangible Assets Is More Important Than Ever
There's never been a better time to ensure your wealth is protected by tangible assets. The entire banking system and the US dollar is fake. Let this current event serve as a warning: make sure your cash is safe and that you have tangible assets that cannot be reduced to zero.
Episode Resources
Book a Call with Our Team
Download the free Financial Empowerment Bootcamp
Download the Freedom Cheat Sheet
Subscribe to Investing in Real Estate on iTunes
Find Your Financial Freedom Number
Subscribe to the Morris Invest YouTube channel
Like Morris Invest on Facebook
DISCLAIMER: I am not a financial adviser. I only express my opinion based on my experience. Your experience may be different. These videos are for educational and inspirational purposes only. Investing of any kind involves risk. While it is possible to minimize risk, your investments are solely your responsibility. It is imperative that you conduct your own research. There is no guarantee of gains or losses on investments.
AFFILIATE DISCLOSURE: Some of the links on this channel are affiliate links, meaning, at NO additional cost to you, I may earn a commission if you click through and make a purchase and/or subscribe. However, this does not impact my opinion. We recommend them because they are helpful and useful, not because of the small commissions we make if you decide to​ use their services. Please do not spend any money on these products unless you feel you need them or that they will help you achieve your goals.
Ready To Build Passive Income Through Rental Real Estate?
Ready to talk about your goals? We're here to show you the tools and teach you the process to begin earning legacy wealth for you and your family.