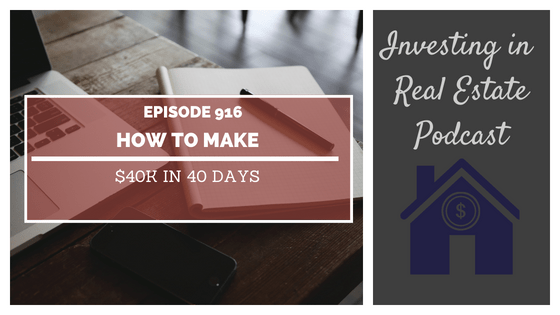 One of the most common questions I get is about getting started in real estate without having tens of thousands of dollars for a down payment. The good news is, it is possible to get started in real estate without tons of money. It just takes dedication and hustle. Today, you're going to learn from my friend Zack Boothe about how to make $40k in 40 days with his driving for dollars method.
On this special episode, you're going to hear my interview with Zack Boothe on how to get started making money in real estate. He's sharing the details of his proven driving for dollars system, and how to decide if it's a fit for you. If you've ever been interested in generating wealth through driving for dollars, you're going to gain a ton of value from Zack's story.
On this episode you'll learn: 
What driving for dollars is.
The details of Zack's 40-day challenge.
What to expect on a DFD Mastery strategy call.
Three things you need to get started driving for dollars.
What Driving for Dollars Is
Driving for dollars is a form of wholesaling that involves searching for distressed or vacant properties in certain neighborhoods. This is a great method for making money in real estate. I specifically recommend using driving for dollars to get started. From there, you can use your proceeds to buy rental properties and create cash flow.
The Details of Zack's 40-Day Challenge
Although Zack has been a successful real estate investor for many years now, he recently decided to do an interesting experiment. He wondered, is it possible to start from nothing and recreate his success? Could he make $40k in 40 days using the strategy he learned years ago? He decided to head out with $1000 in a new market with zero connections.
Zack decided to document this journey on YouTube, and I'd recommend checking out the series here. On day 4, Zack reached his goal. In fact, he blew his goal out of the water. The best part is, Zack used the exact strategy he teaches his students. And if you're interested, you can learn this strategy too in DFD Mastery.
What to Expect on a DFD Mastery Strategy Call
In a free mastery call, Zack's team will spend 45 minutes learning about you. You'll discuss your investing history, goals, struggles, and mindset. They will help you determine what is possible for you. You can schedule a free call at dfdmastery.com/claytonmorris
Three Things You Need to Get Started Driving for Dollars
A time commitment of 15 hours per week.
$500 per month to spend on marketing your business.
High integrity and willingness to follow through.
Episode Resources
Book a Call with Our Team
Nom.com/investing ← Get 50% off your no-risk two-week trial!
DFDMastery.com/claytonmorris
Deal Machine ← Use code PIN
morrisinvest.com/bootcamp ← Download your FREE 90-Day Bootcamp!
Subscribe to Investing in Real Estate on iTunes
Find Your Financial Freedom Number
Subscribe to the Morris Invest YouTube channel
Like Morris Invest on Facebook
DISCLAIMER: I am not a financial adviser. I only express my opinion based on my experience. Your experience may be different. These videos are for educational and inspirational purposes only. Investing of any kind involves risk. While it is possible to minimize risk, your investments are solely your responsibility. It is imperative that you conduct your own research. There is no guarantee of gains or losses on investments.
AFFILIATE DISCLOSURE: Some of the links on this channel are affiliate links, meaning, at NO additional cost to you, I may earn a commission if you click through and make a purchase and/or subscribe. However, this does not impact my opinion. We recommend them because they are helpful and useful, not because of the small commissions we make if you decide to​ use their services. Please do not spend any money on these products unless you feel you need them or that they will help you achieve your goals.
Ready To Build Passive Income Through Rental Real Estate?
Ready to talk about your goals? We're here to show you the tools and teach you the process to begin earning legacy wealth for you and your family.