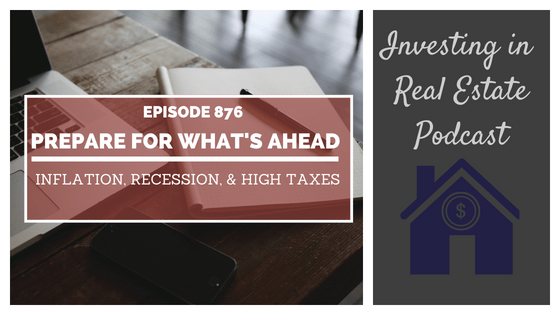 We've seen a lot of changes in the economy over the past few months: interest rates are rising, inflation hitting record highs, and the White House recently announced the Student Debt Relief Plan. Most Americans are feeling the pinch of inflation in their wallets, but what you might not have considered is how these external factors are impacting your nest egg and your retirement plan.
On this episode of Investing in Real Estate, you're going to learn how the state of the economy is impacting retirement accounts and savings accounts across the board. I'll also share an action plan you can take to protect your wealth, and why real estate is a critical part of any retirement plan. Click play to hear what's coming in the economy!
More About This Show
Just last week,
Fidelity reported
that high value 401ks dropped in value by 29% in the second quarter of 2022. The population of IRA millionaires plunged by 17%, and the overall 401k balance was down 20% from a year ago, and almost 15% from the first quarter of the year.
To make matters worse, the media is creating a lot of fear and confusion right now. It can be difficult to navigate the constant influx of information, and this can lead to panic and overwhelm. As the possibility of a recession looms, now is the time to take control over your wealth and your retirement—instead of leaving its fate up to the erratic swings of the market.
If you're like most Americans and you're relying on stock-based retirement plans like a 401k or IRA, you're taking a huge risk in times of inflation and recession. Inflation, the economy, and the stock market are all intertwined. If you allow your retirement plan to get caught in the mix when economy takes a turn for the worst, your hard-earned wealth is bound to come crashing down, too.
And if you've decided to forego retirement plans and instead set aside funds in a traditional savings account, that's no better. When the rate of inflation is higher than the interest you're earning, then you're not growing your funds AT ALL. Instead, you're losing money.
Real estate, however, is a much safer asset to grow your retirement funds. It's an excellent hedge against inflation compared to stock-based investments due to its ability to rise in value along with inflation—instead of decreasing in value when economic trouble strikes.
Plus, when you consider the benefits of appreciation, real estate becomes a clear solution. Each time inflation strikes, your overall property value increases. So instead of being hurt by the high price of inflation, real estate investors are actually seeing an opposite effect. This is what we want: our assets increasing over time.
An action plan for smart investors:
Review your current assets. Take an honest look at your overall portfolio and measure its growth, especially over the past year. What's working for you, and what's not? Do you have old 401ks or savings accounts sitting around getting eroded by inflation?
Consider a plan to diversify. Can you convert a 401k to a self-directed IRA? Can you pull money out of stocks to buy real estate? The options are endless here. There's almost always a way to convert to a different investment type.
Don't underestimate the power of taxes. This is the time of year when rich people make certain they have all shelters in place for their tax money. The sting of inflation is bad enough without the government reaping the benefits as well! Consider not only the tax benefits of investing in real estate, but also look into options like a self-directed IRA or a cost segregation. And if you're not working with a great CPA already, now is the time.
Understand the benefits of owning rental real estate. If you are serious about protecting your financial future, we have the solution. Our newly available duplexes are ready for contract and can close quickly. When you buy real estate, you are investing in a tangible product that offers you a long-term solution for your retirement in a tax-sheltered manner. A duplex is an especially powerful solution because you're purchasing two doors with one loan. This doesn't always happen, but this particular round of properties work within ALL of our programs and financing options. We work with over 100 different lenders and can offer a customized solution that is tailored for your specific goals.
This is a retirement plan that has your best interests in mind, and it's not centered around the stock market. Not to mention, this is a great time of year to buy real estate and lock in tax savings before the end of the year. If you're interested in this solution, just tell us when to call by clicking the red button and filling out the form at
morrisinvest.com
Episode Resources
Book a Call with Our Team
HelloFresh.com/investing16 ← Use code investing16 for 16 free meals across 7 boxes & 3 free gifts!
morrisinvest.com/bootcamp ← Download your FREE 90-Day Bootcamp!
Stock Market Plunge Punished 401k Millionaires
Subscribe to Investing in Real Estate on iTunes
Find Your Financial Freedom Number
Subscribe to the Morris Invest YouTube channel
Like Morris Invest on Facebook
DISCLAIMER: I am not a financial adviser. I only express my opinion based on my experience. Your experience may be different. These videos are for educational and inspirational purposes only. Investing of any kind involves risk. While it is possible to minimize risk, your investments are solely your responsibility. It is imperative that you conduct your own research. There is no guarantee of gains or losses on investments.
AFFILIATE DISCLOSURE: Some of the links on this channel are affiliate links, meaning, at NO additional cost to you, I may earn a commission if you click through and make a purchase and/or subscribe. However, this does not impact my opinion. We recommend them because they are helpful and useful, not because of the small commissions we make if you decide to​ use their services. Please do not spend any money on these products unless you feel you need them or that they will help you achieve your goals.
Ready To Build Passive Income Through Rental Real Estate?
Ready to talk about your goals? We're here to show you the tools and teach you the process to begin earning legacy wealth for you and your family.