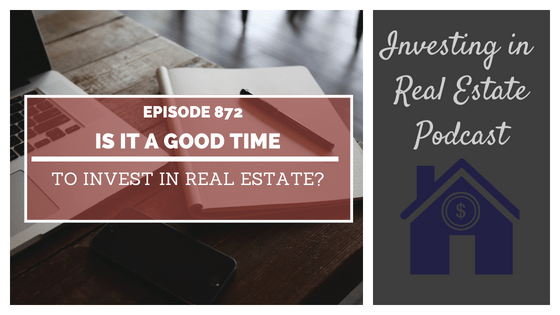 Is now a good time to invest in real estate? This is always a popular question, but especially with so many shifts in the market the past couple years, many people are wondering if they should wait until interest rates drop or prices regulate.
On this episode of Investing in Real Estate, let's talk realistically about what's happening in the market and whether or not now is the time to invest in real estate. We're going to discuss the history of interest rates, the importance of time in the market, and much more!
More About This Show
One of the first concerns you might have is interest rates. Yes, it's true that interest rates are on the rise this year, with possibly even more rate hikes to come. The reality of rising interest rates sounds bad for investors but if you look at the full picture, you'll see that rates aren't necessarily up — they're returning to a normal, healthy baseline.
I have a another video called The Truth About Rising Interest Rates in 2022 where we dive into the numbers and talk about the historical context of interest rates. If this is a concern for you, I'd encourage you to check out that video.
Another quick note on interest rates: they will always change. Yes, it's best if you can nail down a lower rate.. however, interest rates are not in our control. Get the best rate you can, but I would caution you against waiting for the perfect interest rate. Remember you are buying the asset, not the interest rate.
The other main thing that people worry about is housing prices. It's no secret that housing prices have skyrocketed in recent years. And it's true that when you're investing in real estate, you have to buy right.
Some people might worry that these inflated prices could cause another housing crash just like 2008. But here's what you need to remember about 2008: the crash was mostly caused by loose lending practices. Lenders have tightened their standards since then. Have you gotten a loan in the last decade? There is an extensive underwriting process that you have to go through. So yes, prices are high – but no, we're not in a bubble that's about to pop.
Price matters when you're buying real estate, but what's more important is the internal rate of return and having a cash flow positive property in the future.
Here's my advice – it's always a good time to invest in real estate. There's a classic investing statement that says, "it's not timing the market, it's time IN the market," and that's what we like to tell our clients at Morris Invest.
This means that instead of waiting for perfect market conditions, get in on a solid investment when you can. And over time, you'll come out ahead if you have the right fundamentals in place because real estate investing is a long-term strategy.
Whether this video changed your mind, or if you still have questions about investing right now, we'd love to hear from you. You can schedule a free 30-minute call at morrisinvest.com. We'd love to talk with you about your investing goals and how rental real estate can help you get there.
Episode Resources
Book a Call with Our Team
The Truth About Rising Interest Rates in 2022
morrisinvest.com/bootcamp ← Download your FREE 90-Day Bootcamp!
Subscribe to Investing in Real Estate on iTunes
Find Your Financial Freedom Number
Subscribe to the Morris Invest YouTube channel
Like Morris Invest on Facebook
DISCLAIMER: I am not a financial adviser. I only express my opinion based on my experience. Your experience may be different. These videos are for educational and inspirational purposes only. Investing of any kind involves risk. While it is possible to minimize risk, your investments are solely your responsibility. It is imperative that you conduct your own research. There is no guarantee of gains or losses on investments.
AFFILIATE DISCLOSURE: Some of the links on this channel are affiliate links, meaning, at NO additional cost to you, I may earn a commission if you click through and make a purchase and/or subscribe. However, this does not impact my opinion. We recommend them because they are helpful and useful, not because of the small commissions we make if you decide to​ use their services. Please do not spend any money on these products unless you feel you need them or that they will help you achieve your goals.
Ready To Build Passive Income Through Rental Real Estate?
Ready to talk about your goals? We're here to show you the tools and teach you the process to begin earning legacy wealth for you and your family.