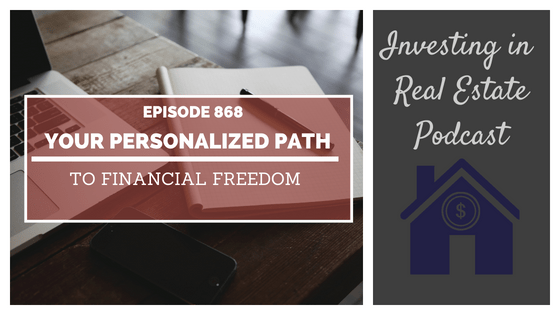 Welcome back to part 6, the finale of the Wealth Building Masterclass! We're going to discuss specific ways you can create financial freedom, based on your personal situation and finances. You're going to hear from some of our clients, and how they used their resources to build wealth.
You're also going to learn about our customized approach to real estate investing, and we'll walk through some of our specific programs. I sincerely hope this Masterclass Series has helped you become more informed, more empowered, and more excited about carving your path to financial freedom.
More About This Show
Freedom Number Program
Let's start with the basics. Because the Freedom Number is at the heart of what we do, Our Freedom Number Program is the first step for all new clients. Together we'll discuss your purpose-driven goals, your Freedom Number, and get a clear vision of what you want your future to look like.
You'll prepare for your call by figuring out your net worth and Freedom Number, and gathering other important financial info so we can guide you toward your next best step. This solution is perfect for investors who…
Are ready to invest in their first property
Want to grow their existing portfolio
Are members of our wealth-building course, the Financial Freedom Academy
Want to benefit from our customized, full-service approach while receiving incredible returns and ongoing support
1031 Exchange Program
Next, our 1031 Exchange Program. This program is for more experienced investors who already have one or more properties. In a 1031 exchange, the investor is able to swap some of their lower-performing assets for properties with higher returns. We love helping commercial real estate investors switch to single-family investments (with improved ROI) in our country's top growth markets.
Additionally, when you use our 1031 Exchange Program, you don't have to pay capital gains tax! If you're looking to diversify your portfolio and want a more "done-for-you" approach, this could be just what you're looking for. This solution is perfect for investors who…
Want to switch from commercial to residential real estate
Have property they'd like to exchange for assets in better markets with better ROI
Don't want to pay capital gains tax
Are upgrading to a larger portfolio
Self-Directed IRA Program
A self-directed IRA (or SDIRA) is a retirement account that allows you to choose your investments. If you're like the world's wealthiest, that usually means investing those funds in real estate. A self-directed IRA works like any other IRA, except it allows you to select your investments, instead of letting the brokerage do it for you. Other than a few stipulations set by the IRS, a self-directed IRA allows you an incredible amount of freedom in choosing your investments. In a sense you are taking off the handcuffs and taking back control over your own financial future. You also have the power of the non-recourse loan within your self-directed IRA. This solution is perfect for investors who…
Know the stock market is volatile and want safer (and more lucrative) options
Like control and authority over their money
Desire larger returns… to the point of double-digit growth
Prefer full control of their retirement funds
Want immunity or protection from inflation
Don't like hidden fees
Portfolio Program
Have $300k or more to invest? Our Portfolio Program is perfect for investors with larger sums. We'll help you build a large portfolio filled with properties that are cash flow positive.
You'll enjoy all of our full-service benefits like free cost-segregation analyses for each property, exclusive access to pre-approved lending, and ongoing support even after you close, without the ongoing fees.
We'll show you how to maximize write-offs and save a lot more on your taxes.
This solution is perfect for investors who…
Have $300k+ to invest
Want to build a large portfolio with high-return properties
Prefer pre-approved financing
Love paying as little in taxes as possible
Cost Segregation Program
A cost segregation lets you accelerate depreciation deductions on land improvements and personal property early on in the game. Our Cost Segregation Program is perfect for high net worth investors who want to maximize tax write-offs and offset capital gains.
For decades the wealthy have been taking advantage of the tax benefits of owning real estate investments, while most of the middle class don't even know these strategies are available to them.
This solution is perfect for investors who…
Have a high net worth
Need to offset capital gains from their other assets
Want to use tax money to build equity
Need lower tax bills, including more write-offs and faster depreciation
Partnership Program
Our Partnership Program is for investors looking to team up with another (or multiple) investor(s) and go in on a property together.
Partners can be friends, family, business colleagues, or other trusted people who have the same goals.
This program is a great solution when you want to invest and enjoy the same ROI as solo investors but with less money down. This solution is perfect for investors who…
Want to invest in a property with the same ROI but have a smaller down payment
Have the goal of building a larger portfolio
Would like to partner with a business associate, friend, family member, etc.
Are just starting out and have less to invest
FFA Program
Our FFA Program is our most recommended because it's a powerful tool and resource every investor should have. In this program, investors enroll in the Financial Freedom Academy where they get a personalized financial education that positions them for investing success.
FFA members join our "inner circle" where they have lifetime access to a 9-module online course, our bestselling book, "How to Pay Off Your Mortgage in 5 Years," and an invitation to our private group of FFA insiders that includes direct access to me and Natali.
All of our most successful clients are FFA members. In addition to mentorship from Natali and I, the private group provides the perfect place for asking questions and networking.
FFA members also get early access to new properties as they become available.
This solution is perfect for investors who…
Want a step-by-step approach to educational content
Want direct access to me and Natali
Would like a place to ask questions and network with other members
Appreciate an ongoing education as they build their portfolios
Want a like-minded community for encouragement and motivation.
Conventional Financing
Finally, conventional financing for rental real estate. Our team has developed relationships with over 100 lenders to date and can offer the best rates available due to our working relationships with these banks. We have a committed financing customer service team that will be able to walk you through everything you will need to gather for a seamless mortgage application process. Our team has identified helpful tips and will have answers to your questions along the way. This solution is perfect for investors who…
Want to leverage their money
Want to get started in investing with a minimal down payment option
Want a new construction property and have time to pay off a mortgage prior to retirement
I know that was a lot to cover, but I hope it's helped by increasing your financial intelligence a bit. And hopefully it's motivated you to start taking action right now to make your financial goals a reality.
When you schedule your call with our team at morrisinvest.com, remember that YOU are in control of your financial future, and we're here to support you. Make sure you've written your goals down, you've analyzed your account statements, and you've found your Freedom Number so that we can jump right into things on our call.
Episode Resources
Book a Call with Our Team
Part 1: The Key to Wealth
Part 2: Goal Setting Workshop
Part 3: Your Personal Financial Checklist
Part 4: The Power of Working with a Team 
Part 5: The Freedom Number 
Download your FREE 90-Day Bootcamp!
Subscribe to Investing in Real Estate on iTunes
Find Your Financial Freedom Number
Subscribe to the Morris Invest YouTube channel
Like Morris Invest on Facebook
DISCLAIMER: I am not a financial adviser. I only express my opinion based on my experience. Your experience may be different. These videos are for educational and inspirational purposes only. Investing of any kind involves risk. While it is possible to minimize risk, your investments are solely your responsibility. It is imperative that you conduct your own research. There is no guarantee of gains or losses on investments.
AFFILIATE DISCLOSURE: Some of the links on this channel are affiliate links, meaning, at NO additional cost to you, I may earn a commission if you click through and make a purchase and/or subscribe. However, this does not impact my opinion. We recommend them because they are helpful and useful, not because of the small commissions we make if you decide to​ use their services. Please do not spend any money on these products unless you feel you need them or that they will help you achieve your goals.
Ready To Build Passive Income Through Rental Real Estate?
Ready to talk about your goals? We're here to show you the tools and teach you the process to begin earning legacy wealth for you and your family.