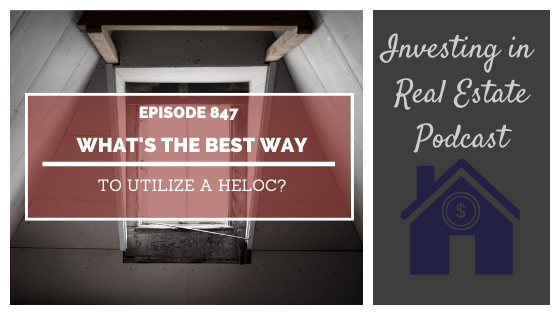 How can you best utilize a HELOC on a rental property? That's the first question I'm answering on this episode of Investing in Real Estate. I'm taking three of your great questions on today's show.
This Q&A episode features listener questions on using a HELOC, how to grow a massive real estate portfolio, and using a whole life policy to build wealth. As always, I appreciate your thoughtful questions, and I hope these episodes inspire you to make progress on your investing journey. Press play to hear my answers to your questions!
On this episode you'll learn: 
The best way to utilize a HELOC to grow your portfolio.
How to grow a massive real estate portfolio (and why you may not need to).
What to consider about whole life insurance policies.
The Best Way to Utilize a HELOC to Grow Your Portfolio
If you're going by the principle of the three stages of real estate investing, then I'd suggest using your equity to put down payments on multiple rental properties. This allows you to accumulate more properties, keep more of your cash in your pocket, and use the bank's money to build wealth. Of course, don't over leverage yourself and be smart about your risk tolerance. In general, at this point in time I think it's smart to leverage.
How to Grow a Massive Real Estate Portfolio (and Why You May Not Need to)
My friend in New Jersey had a massive real estate portfolio. I met him when I was wholesaling; I would bring deals to him and he would pay me a finder's fee. He used the BRRRR Method to build up his large portfolio, which means he renovated properties and placed tenants in them. Then he pulled out his equity to buy more properties. He had a well-oiled machine, including owning a property management company.
While this investor's story is certainly attractive, I want to remind you that you don't need thousands of doors to reach financial freedom. I believe that you can create the life you want by setting a goal that is tailored to your lifestyle and your finances. Download my free Freedom Cheat Sheet to determine how many rental properties you would need to achieve financial freedom.
What to Consider About Whole Life Insurance Policies
To be completely transparent, I'm no expert on this topic. Natali and I have looked into using this method several times, and each time we decided not to move forward. However, I do have many podcast episodes about this topic, including interviews with experts. I would suggest you listen to those episodes to help determine if this strategy is right for you. Here are those resources:
Episode Resources
Book a Call with Our Team
iTrustCapital.com ← Sign up today & receive a $100 funding bonus when you open & fund an account!
The History of Interest Rates
Infinite Banking Explained with Patrick Donohoe – Episode 613
The Infinite Banking Concept Revisited with M.C. Laubscher – Episode 238
Deep Diving the Infinite Banking Concept with Nate Scott & Holly Reed – Episode 212
Learning to Invest with Life Insurance: Part 1 – Episode 217
Learning to Invest with Life Insurance: Part 2 – Interview with Joe McCarrie – Episode 229 
morrisinvest.com/Clayton
Download the FREE Financial Empowerment Bootcamp
Download the Freedom Cheat Sheet
Subscribe to Investing in Real Estate on iTunes
Find Your Financial Freedom Number
Subscribe to the Morris Invest YouTube channel
Like Morris Invest on Facebook
DISCLAIMER: I am not a financial adviser. I only express my opinion based on my experience. Your experience may be different. These videos are for educational and inspirational purposes only. Investing of any kind involves risk. While it is possible to minimize risk, your investments are solely your responsibility. It is imperative that you conduct your own research. There is no guarantee of gains or losses on investments.
AFFILIATE DISCLOSURE: Some of the links on this channel are affiliate links, meaning, at NO additional cost to you, I may earn a commission if you click through and make a purchase and/or subscribe. However, this does not impact my opinion. We recommend them because they are helpful and useful, not because of the small commissions we make if you decide to​ use their services. Please do not spend any money on these products unless you feel you need them or that they will help you achieve your goals.
Ready To Build Passive Income Through Rental Real Estate?
Ready to talk about your goals? We're here to show you the tools and teach you the process to begin earning legacy wealth for you and your family.