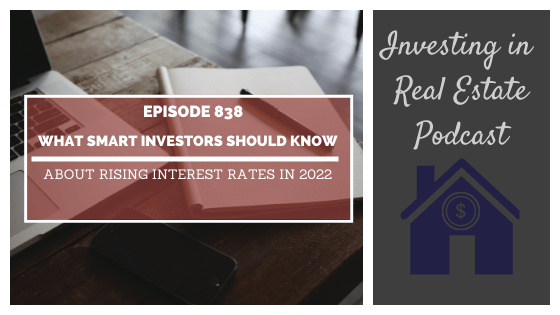 It's no secret that interest rates are on the rise. In fact, the Federal Reserve announced multiple interest rate hikes in 2022. Today we're going to dive into what this means for investors: including what you should do now, and what to consider moving forward.
On this episode of Investing in Real Estate, you're going to hear about an exclusive conversation we had in our private group, Financial Freedom Academy, that inspired this episode. I'll share what to consider about rising interest rates, including three main points to help you develop an investing game plan in 2022 and beyond.
More About This Show
Recently, we had our private mentoring session in our Financial Freedom Academy Facebook group. One of our members, Brian, asked an interesting question about rising interest rates. He asked, with housing prices rising, a lot of people have equity available, but since interest rates are also rising, does it make sense to tap into that equity? He used the example of having a mortgage at 3.5% but getting a HELOC or cash out refi at 5.75%.
I thought this was a brilliant question, and I think it sparked a really thought-provoking conversation. It's timely with how interest rates are potentially spiking in the near future, so I wanted to address it with you today.
Here's the thing: if you took advantage of the historically low interest rates over the past few years, way to go! But if you didn't, there's no need beat yourself up over it. Hindsight is 20/20, right? You can't go back in time, but what you can do is take advantage of what's available now.
Getting in the game now is better than waiting. Because even though interest rates are higher than they were a few months ago, paying 5% in interest is better than doing nothing and making 0 in returns.
That's what really matters when we're talking about numbers. What is your return like? What is the IRR? Yes, your interest rate is important to some extent, but as long as your asset is outperforming that interest rate, you're coming out on top. You can still make a net profit right now, I think that's very realistic.
Let's use Brian's example of having a mortgage rate of 3.5% interest, but tapping into some of that equity at 5.75%. Is it painful to spring for a higher interest rate? Sure, I get that! But does it make sense to tap into that equity? I would say yes.
Again, if you can get a return that's higher than your interest rate, it's a smart move. For example, our properties have a minimum IRR of 18%. In this example, you're making 18% on your investment, but paying 5.75%. Making a great investment comes down to a lot more than just the interest rate. Specifically talking about real estate within our programs, here are some other things you want to consider along with that IRR:
low vacancy rates in our markets
we are able to build in amazing markets
properties that are income producing
being cash flow positive
and not to mention, when that loan is eventually paid down, the return increases!
Here's the big takeaway in my response to Brian: looking forward, we know we can expect interest rates to continue climbing. Next year, we could see interest rates around 7%, and in that case, you'd be kicking yourself for not taking advantage of today's rate. We don't know what the next 5, 10, 15 years hold. Perhaps we will see low rates again, and in that case, you can always refinance into a lower interest rate product. My advice would be to take advantage of what's available now, especially since we know rates are going to go up.
Another important thing to consider is that as rates rise, which we know that they are going to, remember that you have other options aside from conventional loans. At Morris Invest, we offer multiple other programs, including non-recourse loans inside a self-directed IRA, and more.
Conclusion
Although interest rates are higher than they've been, they're also lower than they will be going forward. Take advantage of this rate now. You can always refinance in the future if things unexpectedly change for the better.
It's okay to pay a little more for interest as long as the return on your asset is greater. It's a numbers game!
Have a backup plan – think of some other ways you can grow your portfolio without relying on the Fed and big banks.
Episode Resources
Book a Call with Our Team
Financial Freedom Academy 
Secrets of a Millionaire Real Estate Investor by Robert Shemin 
WSJ Article
morrisinvest.com/bootcamp ← Download your FREE 90-Day Bootcamp!
Subscribe to Investing in Real Estate on iTunes
Find Your Financial Freedom Number
Subscribe to the Morris Invest YouTube channel
Like Morris Invest on Facebook
DISCLAIMER: I am not a financial adviser. I only express my opinion based on my experience. Your experience may be different. These videos are for educational and inspirational purposes only. Investing of any kind involves risk. While it is possible to minimize risk, your investments are solely your responsibility. It is imperative that you conduct your own research. There is no guarantee of gains or losses on investments.
AFFILIATE DISCLOSURE: Some of the links on this channel are affiliate links, meaning, at NO additional cost to you, I may earn a commission if you click through and make a purchase and/or subscribe. However, this does not impact my opinion. We recommend them because they are helpful and useful, not because of the small commissions we make if you decide to​ use their services. Please do not spend any money on these products unless you feel you need them or that they will help you achieve your goals.
Ready To Build Passive Income Through Rental Real Estate?
Ready to talk about your goals? We're here to show you the tools and teach you the process to begin earning legacy wealth for you and your family.