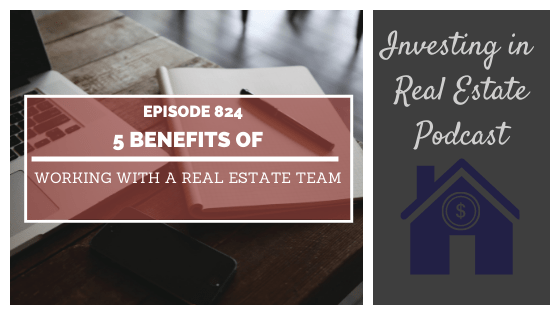 One of the biggest mistakes new investors make is trying to do it alone. Especially if you're buying real estate out of state, you're going to need a team by your side to make your experience passive, sustainable, and headache-free.
Today I'm going to share the 5 benefits of working with a real estate team, and why this is instrumental to your success. Join me for episode 824 of Investing in Real Estate!
More About This Show
Conducting proper market analysis. This alone can be a full-time job for upwards of a year or so. Having a good team by your side can help you thoroughly analyze a market so that your investment is solid for years to come. Our team spends over a year analyzing each market, as well as the subdivisions within that market. Not only are we determining how the market will evolve over the life of your investment, but we predict how the neighborhood will grow, appreciate, and flourish over time. We pay attention to the surrounding of the property and the types of amenities available to the tenants to utilize. For example, good schools, shopping areas, colleges and universities, hospitals, and more.
Finding the right property. There's a lot of due diligence required when it comes to selecting the right property for investing. And if we're talking about new construction, do you know the best areas within that market to build? Are you able to predict the appreciation on the property? The right team can help you nail down all of these items so you can feel confident about the longevity of your investment. Since we have a dedicated team that specializes in market analysis, we also benefit from negotiations for land and building materials. As you know, during the past year or two we've seen a rise in costs on everything, but thankfully we weren't hit as hard as some others because we have ongoing deals. Some of the price increases just couldn't be avoided, but we have great relationships and long-lasting purchasing power.
Hiring the correct contractors to complete a new construction property. Let me tell you, if you don't properly vet and screen your contractors, there's a chance you'll get burned. Not to be disparaging to contractors, but like any profession, there are good ones and bad ones! Will you have ample time to vet contractors? Are you able to check in on their progress? There is a lot of trust involved when you're hiring someone to build or fix your property. And when you work with a team, you can trust that they've developed a strong and successful relationship with the contractors on the job. At Morris Invest, we have been able to work with some amazing contracting teams to build our properties from the ground up. It should also be mentioned that during the building process and the finalizing of construction we go through a series of inspections. The city is always lined up to complete their inspections first, our team then swoops in and completes any last-minute items and does their final inspection. The property management team also does an inspection walk through prior to a move in on any property. All of this is coordinated by our boots on the ground, it's a lot of work and timing is everything for you as a client in order to get the property closed on time.
Pricing: including materials, labor, and financing options. You know that making a solid investment starts with the cost of the purchase. If you're looking at pricing of materials for building just one or two new construction properties, where do you begin? How can you get the best prices to keep your overall investment reasonable? Are you able to finance construction? A team comes in handy in this department because they can often lock in lower prices on materials and pass down some of the savings to the investor. We recently announced that we are now working with 100 lenders. Our lending department is well versed in everything you need to know in order to apply and qualify for financing. If you have ever purchased a home, you know what lenders need in order to sign off on a loan. We have great relationships with these 100+ lenders and they trust that we will make the process as smooth as possible.
Hiring an efficient property management team. Property management is another integral part of making your investing experience both passive and sustainable. Who do you hire to find a tenant for your property? What kind of rate will you get with a property manager? And how can you ensure they be there when you need them? Again, especially if you're investing out of state, you're going to need to put a lot of trust into your property manager. When you work with a team like ours, you can trust that we've established strong relationships with property management companies in that market.
Episode Resources
Book a Call with Our Team
TommyJohn.com/investing ← Get 20% off your first order!
HelloFresh.com/investing16 ← use code investing16 for up to 16 free meals
AND 3 free gifts!
More Important Than Money by Robert Kiyosaki 
morrisinvest.com/bootcamp ← Download your FREE 90-Day Bootcamp!
Subscribe to Investing in Real Estate on iTunes
Find Your Financial Freedom Number
Subscribe to the Morris Invest YouTube channel
Like Morris Invest on Facebook
DISCLAIMER: I am not a financial adviser. I only express my opinion based on my experience. Your experience may be different. These videos are for educational and inspirational purposes only. Investing of any kind involves risk. While it is possible to minimize risk, your investments are solely your responsibility. It is imperative that you conduct your own research. There is no guarantee of gains or losses on investments.
AFFILIATE DISCLOSURE: Some of the links on this channel are affiliate links, meaning, at NO additional cost to you, I may earn a commission if you click through and make a purchase and/or subscribe. However, this does not impact my opinion. We recommend them because they are helpful and useful, not because of the small commissions we make if you decide to​ use their services. Please do not spend any money on these products unless you feel you need them or that they will help you achieve your goals.
Ready To Build Passive Income Through Rental Real Estate?
Ready to talk about your goals? We're here to show you the tools and teach you the process to begin earning legacy wealth for you and your family.