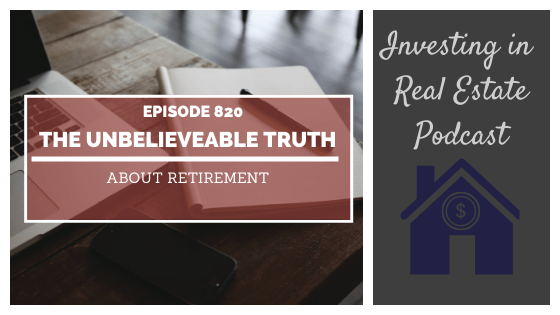 On today's show, we're going to dive into the important topic of retirement. You're going to learn about average retirement savings in the US, and some key retirement mistakes you can avoid as an investor. Plus, we're going to dive into some realistic steps you can take to ensure you're set for retirement.
You'll hear what is causing the mismatch between retirement savings, and the reality of what it costs to retire. If you want to be prepared for retirement, this episode of Investing in Real Estate is for you.
More About This Show
According the the Transamerica Center for Retirement Studies' report, the median retirement savings in the US is as follows:
 Americans in their 20s – $16k
Americans in their 30s – $45k
Americans in their 40s – $63k
Americans in their 50s – $73k
Americans in their 60s – $117k
Americans in their 70s – $172k
How does that compare to the average salary? In 2021, the estimated median family income was just under $80,000. So if you've got that $172k saved up for retirement and you're used to living on $80k per year, that means you can afford to live in retirement for just over two years. There is a major problem here.
What is causing this mismatch between retirement savings and the reality of what it costs to retire? I think there are a few things at play here, and these are some of the big mistakes I want you to avoid.
Retirement Mistakes to Avoid
Dependence on Social Security. This is a common mindset block for a lot of people. Do not depend on social security to carry your retirement! I wish this wasn't the case, but it is. The average SS check is around $1600 per month, or just under $20k per year. Please focus on building your retirement for yourself. Get the idea of Social Security out of your mind, and if you are able to receive these benefits, let them be a bonus–not your main plan!
Lack of financial education and overconfidence in the 401k. The average 401k balance at retirement is less than $100k. Sure, if you've got a 401k plan and a company match, let that be a piece of your retirement plan, but it cannot and will not carry you through retirement. You know, many many Americans have been sold the lie of the 401k, so much so that they don't realize there are alternatives.
Underestimating retirement years. Sure, no one can predict how long they're going to live. You might not even have an idea of when you'd like to retire yet… but I think we can agree that saving for a meager two years is simply not enough.
If this sounds like you, let's talk about five steps you can take to better prepare for retirement.
Tips to Prepare for Retirement
Set a realistic goal. Let's build out a retirement plan for you that is based on REAL numbers. Start by downloading the Freedom Cheat Sheet so you can determine how much money you need coming in every month.
Purchase performing assets. You knew that one was coming, right? Having rental properties that put money in your account every single month is so powerful… and so much more sustainable than a one-time balance in a 401k. I want you to think of streams of income, not piles of cash.
Consider opening a self-directed IRA. I have an entire video on why this strategy is so powerful, but to put it simply: a self-directed account puts the control in your hands, comes with significant tax write offs, and is protected from market crashes.
Seek out expert advice… in the right places. Financial advice can go a lot way, but I do not want you to get advice from any old advisor. Most financial advisors are looking out for their own pockets. Here are a few places you can find tailored advice that has your best interests in mind: WealthAbility or any CPA in the Tax Free Wealth Network, or our team of trained SDIRA experts.
Think about repositioning funds. Can you pull money out of stocks? A 401k? A low-interest savings account? Maybe you can start small by paying off high-interest debt now to lower your overall expenses. Take a good look at your balance sheet and start thinking about how you can move money around to better serve you and your goals.
Episode Resources
Book a Call with Our Team
OurCrowd.com/Clayton ← Invest in Future Family!
morrisinvest.com/freedom
The Power of a Self-Directed IRA for Building Wealth
WealthAbility
morrisinvest.com/bootcamp ← Download your FREE 90-Day Bootcamp!
Subscribe to Investing in Real Estate on iTunes
Find Your Financial Freedom Number
Subscribe to the Morris Invest YouTube channel
Like Morris Invest on Facebook
DISCLAIMER: I am not a financial adviser. I only express my opinion based on my experience. Your experience may be different. These videos are for educational and inspirational purposes only. Investing of any kind involves risk. While it is possible to minimize risk, your investments are solely your responsibility. It is imperative that you conduct your own research. There is no guarantee of gains or losses on investments.
AFFILIATE DISCLOSURE: Some of the links on this channel are affiliate links, meaning, at NO additional cost to you, I may earn a commission if you click through and make a purchase and/or subscribe. However, this does not impact my opinion. We recommend them because they are helpful and useful, not because of the small commissions we make if you decide to​ use their services. Please do not spend any money on these products unless you feel you need them or that they will help you achieve your goals.
Ready To Build Passive Income Through Rental Real Estate?
Ready to talk about your goals? We're here to show you the tools and teach you the process to begin earning legacy wealth for you and your family.