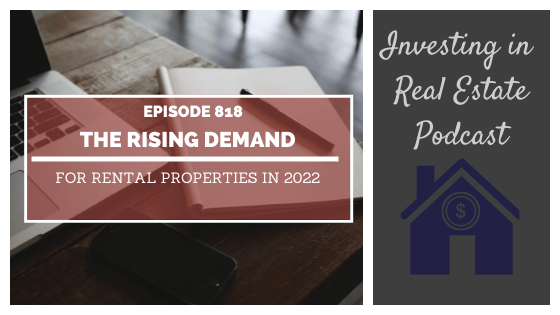 Today we're going to be talking about the housing market in 2022, specifically the rising demand for new construction rental properties. Back in 2017, the National Association of Home Builders reported that 37,000 homes were built as rental properties. Two years later in 2019, that number soared to 43,000. It's important to note that these numbers include only properties that were specifically built to be rentals – it does not include new builds that were sold to investors after construction completed.
So clearly, there's a high demand for new construction rentals – and the demand is growing. On this episode of Investing in Real Estate, we're going to talk about a few reasons why new construction rentals are so hot.
More About This Show
1. Demographics. Although we're seeing rates of homeownership rise in the Millennial generation, there are still a lot of Millennials who are renting. This may be due to high costs, being tied down by student loans, or just general preference. Regardless, many Millennials are moving to the suburbs, and new construction rental properties are attractive.
2. Affordable financing. You know by now that interest rates have been historically low over the past couple years. Because there has been such competitive financing lately, new construction loans are no longer limited to big developers. Smaller developers and real estate investors have had access to new construction loans.
3. New construction offers better exit strategies. In general, if you're doing things correctly, I'd say that new construction is a safer bet than rehabbing an old property. This is true in many aspects, including your exit strategy. Let's say you buy a new construction property in a good market, but for whatever reason you decide that investing isn't for you. It's pretty easy to sell a recently built property to a homeowner, investor, or a big-scale company.
Bloomberg recently published a piece on why there's never been a better time to be a landlord–and this huge surge in demand is a compelling reason why. In July, the rental occupancy rate hit 97%!
Here is some good news on the new construction front: supply chain issues that have hurt the industry are expected to let up in 2022. Economist Odeta Kushi anticipates the majority of these bottleneck issues resolving in the new year, resulting in more new construction properties being built. And if you know anything about the real estate market, you know that we have a major affordable housing crisis.
If you've ever wanted to get into buying new construction rental properties, I think 2022 is a really great time to explore the opportunity. We have an entire library of videos here on our new construction properties. We also have some openings on our schedule to chat – just head to our website and pick a time, we'd love to learn about your goals and help you determine if new construction investing is right for you.
Episode Resources
Book a Call with Our Team
morrisinvest.com/bootcamp ← Download your FREE 90-Day Bootcamp!
Subscribe to Investing in Real Estate on iTunes
Find Your Financial Freedom Number
Subscribe to the Morris Invest YouTube channel
Like Morris Invest on Facebook
DISCLAIMER: I am not a financial adviser. I only express my opinion based on my experience. Your experience may be different. These videos are for educational and inspirational purposes only. Investing of any kind involves risk. While it is possible to minimize risk, your investments are solely your responsibility. It is imperative that you conduct your own research. There is no guarantee of gains or losses on investments.
AFFILIATE DISCLOSURE: Some of the links on this channel are affiliate links, meaning, at NO additional cost to you, I may earn a commission if you click through and make a purchase and/or subscribe. However, this does not impact my opinion. We recommend them because they are helpful and useful, not because of the small commissions we make if you decide to​ use their services. Please do not spend any money on these products unless you feel you need them or that they will help you achieve your goals.
Ready To Build Passive Income Through Rental Real Estate?
Ready to talk about your goals? We're here to show you the tools and teach you the process to begin earning legacy wealth for you and your family.