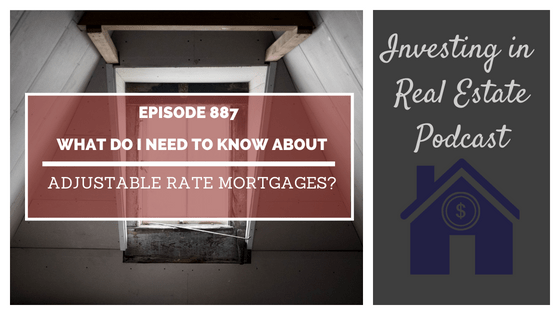 It's no secret that interest rates are on the rise. Today's first caller asked a thoughtful question about adjustable rate mortgages. What is an adjustable rate mortgage, and when is it financially intelligent to use one? That's the first question I'm answering on today's show.
This episode features three listener questions on adjustable rate mortgages, how to invest when you've had a foreclosure, and ways to start investing when you don't have a lot of funds. Press play to hear my answers to your best investing q's!
On this episode you'll learn:
The pros and cons of using an adjustable rate mortgage.
Tips for investing with a foreclosure on your credit report.
How much money a new investor needs to get started.
The Pros and Cons of Using an Adjustable Rate Mortgage
An adjustable-rate mortgage, or ARM, is a home loan with an interest rate that can change over time. Typically, the loan will have an introductory period with a low, fixed rate anywhere from 3-10 years. After that intro rate expires, the interest rate is going to adjust at certain intervals. ARMs generally have caps on how much the interest rate can rise per year or over the lifetime of the loan.
An ARM can be great for someone who knows they will sell their property before the adjustment period starts. In this scenario, you can take full advantage of the lower payment and pay down on the principle balance of your property.
An ARM loan can put you in a bad spot if you are unable to refinance your loan before the adjustment period begins. Some refinances will only allow for a LTV of 80% or less. If you put 5% down on a property and have a 5 year ARM loan you need the property to appreciate 15% in 5 years. That may or may not happen. You could be stuck with a much higher interest rate until you are able to refinance.
The bottom line is: right now an ARM is going to be priced the same as a 30 year fixed mortgage, so in most scenarios, it just doesn't make sense.
Adjustable rate products are for people with a higher risk tolerance. There is nothing wrong with an ARM as long as you understand how and when to use it. If you are buying a primary home and you are very financially intelligent, an ARM may be a great product. It's not typically going to be a fit for a buy and hold investor.
Tips for Investing with a Foreclosure on Your Credit Report
It's always a good idea to shop around when searching for a banking product. Investing with a foreclosure isn't impossible. It just depends on what your goals are, how long ago the foreclosure was, what your finances look like now, and how determined you are to make it happen.
Here are a few options I would pursue when trying to invest with a foreclosure on your credit report:
Shop around at local banks to see what they can offer
Look into working with private lenders, who may not care about a foreclosure
Consider pursuing non-recourse financing, which is asset-based
Schedule a free call with my team. We work with over 100 lenders, and if we can't help you, we may be able to point you in the right direction.
How Much Money a New Investor Needs to Get Started
When you're investing in real estate, there are three things you need: a deal, money, and people. If you're missing one of these components (like money), then you've got to find a strong deal and a great team.
If you have no money, then you may want to pursue wholesaling or driving for dollars. However, if you have some money, it depends on what path you want to take. You could try to find a cheap local property, or consider partnering with another investor. If you're looking into full-service real estate investing, you can expect down payments to start around $50k
Episode Resources
Book a Call with Our Team
MyTartCherry.com/investing ← Get up to 35% off plus free shipping!
Head On Fire Show
How to Pay Off Your Mortgage in 5 Years
morrisinvest.com/Clayton
Download the FREE Financial Empowerment Bootcamp
Download the Freedom Cheat Sheet
Subscribe to Investing in Real Estate on iTunes
Find Your Financial Freedom Number
Subscribe to the Morris Invest YouTube channel
Like Morris Invest on Facebook
DISCLAIMER: I am not a financial adviser. I only express my opinion based on my experience. Your experience may be different. These videos are for educational and inspirational purposes only. Investing of any kind involves risk. While it is possible to minimize risk, your investments are solely your responsibility. It is imperative that you conduct your own research. There is no guarantee of gains or losses on investments.
AFFILIATE DISCLOSURE: Some of the links on this channel are affiliate links, meaning, at NO additional cost to you, I may earn a commission if you click through and make a purchase and/or subscribe. However, this does not impact my opinion. We recommend them because they are helpful and useful, not because of the small commissions we make if you decide to​ use their services. Please do not spend any money on these products unless you feel you need them or that they will help you achieve your goals.
Ready To Build Passive Income Through Rental Real Estate?
Ready to talk about your goals? We're here to show you the tools and teach you the process to begin earning legacy wealth for you and your family.