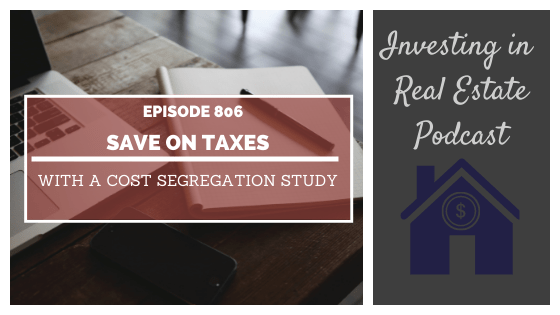 There many great options for real estate investors to save on taxes, but unless you're working with an amazing CPA, there are a lot of strategies you might not have heard of. You probably know about depreciation, but a cost segregation is a way for you to accelerate that depreciation and save on taxes.
On today's show, I'm walking you through some of the basics of a cost segregation study. We'll talk about how it works, what types of investors can benefit from a cost segregation, and more. Please join me for episode 806 of Investing in Real Estate!
More About This Show
In a cost segregation study, the components that make up a property are thoroughly analyzed for the sole purpose of reclassifying these eligible items into different tax classifications.
I know that sounds technical, but let's get into the why. Why would someone want to divvy up the components into different tax classifications? Instead of depreciating everything at a rate of 27.5 years, a cost segregation allows you to reclassify components into smaller windows — 5, 7, or 15 years. Doing this can potentially save you thousands of dollars on your tax bill, depending on your unique situation.
Let's dive into four types of investors who can benefit from a cost segregation:
1) High-net worth individuals who need more tax write-offs
2) Those who would like to avoid paying high taxes
3) Investors who need to offset capital gains
4) Real estate investors who are buying at least one property per year
If that sounds like you, you might be wondering how to go about getting a cost segregation study. You'll need to hire an expert. A cost segregation engineer is a CPA with specialized knowledge on this specific section of the tax code.
Is it a good time to do a cost segregation study? Yes! Just like when someone asks if it's a good time to invest in real estate – the answer is always yes!
But specifically, there's a lot of talk about the Biden administration raising the capital gains rate and/or doing away with the 1031 exchange. If you think you need tax savings, I'd recommend looking into a cost segregation.
If you want to learn more about cost segregation studies. I can recommend a couple of resources. First, I have a comprehensive blog posts that breaks down all of the details and numbers. Check it out here.
And if you'd rather chat with someone one-on-one, our portfolio managers are specifically trained on our cost segregation program. You can book a free call to get your questions answered and learn more about if you'd be a good candidate for a cost segregation study.We even offer new construction rental properties with a cost segregation built-in, creating a hassle-free, done-for-you experience.
Episode Resources
Book a Call with Our Team
HelloFresh.com/investing16 ←Use code INVESTING16 for up to 16 free meals & 3 free gifts!
TommyJohn.com/investing ← Get 20% off!
Shopify.com/investing ← Get a free 14 day trial!
The Power of a Cost Segregation Study Can Save You Thousands
morrisinvest.com/bootcamp ← Download your FREE 90-Day Bootcamp!
Subscribe to Investing in Real Estate on iTunes
Find Your Financial Freedom Number
Subscribe to the Morris Invest YouTube channel
Like Morris Invest on Facebook
DISCLAIMER: I am not a financial adviser. I only express my opinion based on my experience. Your experience may be different. These videos are for educational and inspirational purposes only. Investing of any kind involves risk. While it is possible to minimize risk, your investments are solely your responsibility. It is imperative that you conduct your own research. There is no guarantee of gains or losses on investments.
AFFILIATE DISCLOSURE: Some of the links on this channel are affiliate links, meaning, at NO additional cost to you, I may earn a commission if you click through and make a purchase and/or subscribe. However, this does not impact my opinion. We recommend them because they are helpful and useful, not because of the small commissions we make if you decide to​ use their services. Please do not spend any money on these products unless you feel you need them or that they will help you achieve your goals.
Ready To Build Passive Income Through Rental Real Estate?
Ready to talk about your goals? We're here to show you the tools and teach you the process to begin earning legacy wealth for you and your family.