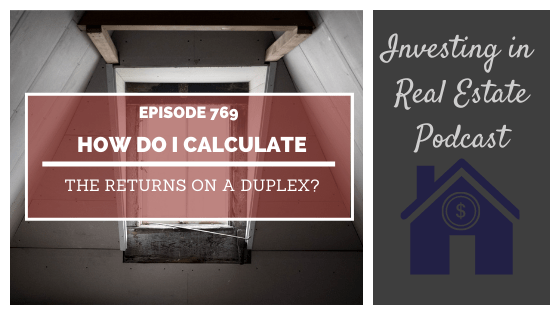 What is the best way to calculate returns on a duplex? Should you just double the numbers for a single-family home, or does it come down to percentages? That's the first question I'm answering on today's show!
On this Q&A episode of Investing in Real Estate, I'm taking three of your thoughtful questions on duplex returns, what to do when a tenant makes costly damages to your property, and ideas for getting started with $20,000. Tune in to hear my answers to your questions!
On this episode you'll learn:
How to calculate returns on a duplex.
Considerations when dealing with costly tenant damages.
How to start investing with $20k.
How to Calculate Returns on a Duplex
If you haven't yet seen my video on calculating Internal Rate of Return or IRR, that's a great place to start. Here's the link to my IRR video. With a duplex, you'll want to look at purchase price, cash flow, principal reduction, and appreciation. Remember that if you've got two paying tenants, cash flow on a property, building equity, that's a great place to begin! Duplexes are so powerful because the returns typically really high since you get rent from two tenants.
Considerations When Dealing with Costly Tenant Damages
Dealing with expensive tenant damages can be gut wrenching. It can also be difficult to decide how to proceed. Lawsuits are an option, but I would honestly think long and hard about moving forward with a lawsuit. First of all, if you're already dealing with a tenant who is dodging financial responsibility, chances are there's nothing to go after.
I also would like you to know that it doesn't matter if you're in the right, it doesn't matter if you win the lawsuit, going to court can suck the life out of you. It is a huge energy drainer. Consult with a lawyer to get their advice, but remember that a lawyer is going to want to make money.
Here are a few other things to consider in this scenario. Did the tenant skip their rent payments because of a pandemic related issue? If so, you may be able to seek out assistance and the state or county level. Additionally, you may want to consider if there is an underlying issue in this market or with your property management company.
How to Start Investing with $20k
$20,000 is a great amount of money to get started in real estate. At our company, the minimum down payment starts around $45k. If you're wanting to work with us, here are a few things you can do to look for the rest of the down payment:
Check retirement plans (IRAs or 401ks)
Consider entering a real estate partnership
Check out our referral program 
If you're wanting to purchase a property on your own, I think $20k can get you started. Make sure you check out my video on 10 things to look for in a market.
Episode Resources
Book a Call with Our Team
Doing the Math on Rental Properties (IRR) 
10 Things You MUST Do Before Investing in Real Estate 
morrisinvest.com/webinar ← Sign up for my webinar!
morrisinvest.com/clayton ← Ask me a 30-second question!
morrisinvest.com/bootcamp ← Download your FREE 90-Day Bootcamp!
Subscribe to Investing in Real Estate on iTunes
Find Your Financial Freedom Number
Subscribe to the Morris Invest YouTube channel
Like Morris Invest on Facebook
DISCLAIMER: I am not a financial adviser. I only express my opinion based on my experience. Your experience may be different. These videos are for educational and inspirational purposes only. Investing of any kind involves risk. While it is possible to minimize risk, your investments are solely your responsibility. It is imperative that you conduct your own research. There is no guarantee of gains or losses on investments.
AFFILIATE DISCLOSURE: Some of the links on this channel are affiliate links, meaning, at NO additional cost to you, I may earn a commission if you click through and make a purchase and/or subscribe. However, this does not impact my opinion. We recommend them because they are helpful and useful, not because of the small commissions we make if you decide to​ use their services. Please do not spend any money on these products unless you feel you need them or that they will help you achieve your goals.
Ready To Build Passive Income Through Rental Real Estate?
Ready to talk about your goals? We're here to show you the tools and teach you the process to begin earning legacy wealth for you and your family.