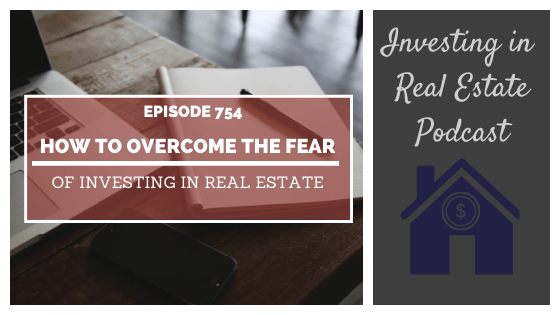 On this episode of Investing in Real Estate, I want to talk about the fear that often accompanies investing in real estate. We're going to discuss dealing with fear, the history of fear, and where fear comes from. I'm also going to share my five best tips for working through fear so you can push forward with your goals.
You're going to hear my best tips for identifying your fears, mitigating some tangible worries, and pushing past the fears that hold you back. If you've ever struggled with overcoming your fears, I hope this episode will arm you with some strategies for moving past them. Please join me for episode 754!
More About This Show
Identify your fear. What exactly are you afraid of? I want you to really get to the root of this. Either take some time to journal about it, or talk it out with a friend, another investor, or maybe even a therapist. Because in my experience, the fear is usually a lot deeper than you think. It might have roots that go back to your childhood. Maybe you grew up with financial instability, maybe you watched a parent go through career hardships. Perhaps the fear doesn't even belong to you. Do you have someone in your life who tells you that you won't succeed? Have you adopted their voice?
Processing your fear, giving it a name, and understanding WHY you feel that way can help you to start moving past it.
Calm your fears with due diligence. If you've identified some real, tangible things in step one that scare you about real estate investing, it's time to dig into them. Talk to property management companies, insurance companies, a full-service real estate company. Most of the time, there's a good solution to your concern. Scared of investing out of state? Go see your properties. Afraid of losing your asset in a natural disaster? That's what insurance is for. Scared of vacancies? Work with a proven PM company. If you really investigate some of these fears, you'll understand that there's usually an answer to everything.
Understand that 100% certainty is a lie. I cannot promise you that you'll never have any hiccups or hardships in real estate investing. In fact, the opposite is probably true. At some point, you will have an eviction, a longer than expected vacancy, or a bad tenant. It happens. If you're expecting to avoid problems entirely, then maybe this isn't the business for you.
Think ahead. What you've never experienced is scary, I get it. I like to tell inexperienced investors to pretend they are 5, 10, 15 years into their real estate career. Let's say you've reached your Freedom Number. Would you be phased by these fears then? Probably not. You'd take care of any problems that arise, and then you'd move on.
Take aligned action. Once you've taken the time to really assess these fears and you've done your due diligence, it's time to make a choice. Does real estate investing align with your goals and values? If it's really what you want, then it's time to take action.
Episode Resources
Book a Call with Our Team
simplisafe.com/investing ← Get a free security camera and 60-day risk free trial!
Download the free Financial Empowerment Bootcamp
Download the Freedom Cheat Sheet
Subscribe to Investing in Real Estate on iTunes
Find Your Financial Freedom Number
Subscribe to the Morris Invest YouTube channel
Like Morris Invest on Facebook
DISCLAIMER: I am not a financial adviser. I only express my opinion based on my experience. Your experience may be different. These videos are for educational and inspirational purposes only. Investing of any kind involves risk. While it is possible to minimize risk, your investments are solely your responsibility. It is imperative that you conduct your own research. There is no guarantee of gains or losses on investments.
AFFILIATE DISCLOSURE: Some of the links on this channel are affiliate links, meaning, at NO additional cost to you, I may earn a commission if you click through and make a purchase and/or subscribe. However, this does not impact my opinion. We recommend them because they are helpful and useful, not because of the small commissions we make if you decide to​ use their services. Please do not spend any money on these products unless you feel you need them or that they will help you achieve your goals.
Ready To Build Passive Income Through Rental Real Estate?
Ready to talk about your goals? We're here to show you the tools and teach you the process to begin earning legacy wealth for you and your family.