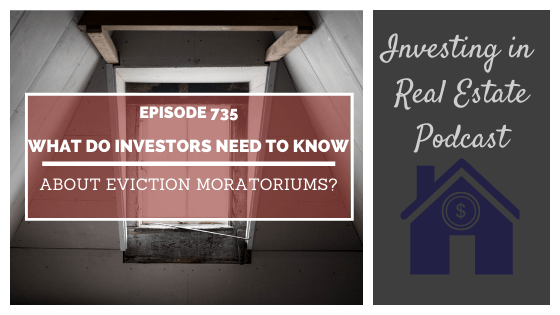 It's no secret that the pandemic has put strain on a lot of wallets. Eviction moratoriums have been put in place to help renters make ends meet, but what about landlords? There are a few things to consider about lease length, market conditions, and building a relationship with your property management team. With eviction moratoriums being extended, what's a smart investor to do? That's the first question I'm answering on today's Q&A!
On this episode of Investing in Real Estate, I'm answering your questions about eviction moratoriums, our partner company SDIRA Wealth, and how to use a HELOC to pay off your mortgage fast. Press play to hear my answers to your questions!
On this episode you'll learn:
What investors can do for relief during eviction moratoriums.
Who SDIRA Wealth is, and what they do.
How to use a HELOC to pay off your mortgage.
What Investors Can Do for Relief During Eviction Moratoriums
With many struggling to pay their bills, eviction moratoriums have provided relief to renters across the country. But for landlords feeling the strain, should you offer shorter leases? I say yes! Years ago, I was a proponent of the longer lease, but I've changed my stance. If you've got a great property in the right markets, you should be able to quickly fill a vacancy. There's no reason to lock a tenant into a longer lease.
I highly suggest thorough market research. If you're investing in the best markets in the country, hopefully you're not feeling too much of a pinch from eviction moratoriums. It's essential to invest in markets with job diversity. If you are having issues with eviction moratoriums, I suggest reaching out to your property management team. It's likely they can suggest local programs and other strategies to help during this time.
Who SDIRA Wealth Is, and What They Do
In 2018, Morris Invest partnered with SDIRA Wealth to offer a larger platform of benefits and services to meet the needs of our clients. With 20 years of experience in real estate and over 1 Billion in sales, SDIRA Wealth operates in 14 states and over 40 cities. SDIRA Wealth works on the customer service and operations side, and Morris Invest is the marketing and education team. Our mission together is "to empower people to move beyond status quo and create the best possible experience with our solution."
How to Use a HELOC to Pay Off Your Mortgage
In our book, How to Pay Off Your Mortgage in 5 Years, Natali and I lay out exactly how to utilize a HELOC to attack the principle balance on your mortgage. Essentially, you should use the HELOC like a checking account and use it to pay a large chunk toward your principle balance every month. In some cases, banks will tell you that you cannot use a HELOC in this way. I'd recommend speaking to a supervisor. If they still prohibit it, you'll have to instead write a monthly check (from your checking account). If you're interested in this strategy, definitely check out our book!
Episode Resources
Book a Call with Our Team
IPVanish.com/investing ← Save 65% on a VPN!
morrisinvest.com/clayton ← Ask me a 30-second question!
morrisinvest.com/bootcamp ← Download your FREE 90-Day Bootcamp!
How to Pay Off Your Mortgage in 5 Years 
Subscribe to Investing in Real Estate on iTunes
Find Your Financial Freedom Number
Subscribe to the Morris Invest YouTube channel
Like Morris Invest on Facebook
DISCLAIMER: I am not a financial adviser. I only express my opinion based on my experience. Your experience may be different. These videos are for educational and inspirational purposes only. Investing of any kind involves risk. While it is possible to minimize risk, your investments are solely your responsibility. It is imperative that you conduct your own research. There is no guarantee of gains or losses on investments.
AFFILIATE DISCLOSURE: Some of the links on this channel are affiliate links, meaning, at NO additional cost to you, I may earn a commission if you click through and make a purchase and/or subscribe. However, this does not impact my opinion. We recommend them because they are helpful and useful, not because of the small commissions we make if you decide to​ use their services. Please do not spend any money on these products unless you feel you need them or that they will help you achieve your goals.
Ready To Build Passive Income Through Rental Real Estate?
Ready to talk about your goals? We're here to show you the tools and teach you the process to begin earning legacy wealth for you and your family.