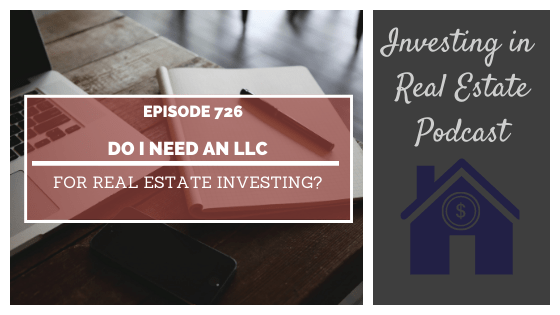 Should you put your rental properties in an LLC? This is one of the most common questions my team is asked during our first phone call with new clients. The quick answer is: it depends.
On today's show, we're going to dive into the complexities of setting up a legal entity for real estate investing. You'll learn why your legal structure depends on your financing, the importance of seeking legal advice, and why a cookie-cutter approach to investing is unhelpful.
On this episode you'll learn:
The general consensus on setting up an LLC for real estate.
What you need to know about legal entities and financing options.
Why you need a customized plan for your investments.
And more!
The General Consensus on Setting Up an LLC for Real Estate
Generally speaking, it's recommended to buy real estate in an LLC. You may have even heard me say this before, but remember it's just a general piece of advice. Especially if you're a DIY investor, you'll want to set up an LLC for liability purposes. There can be multiple benefits to buying real estate within an LLC, but it's not the right answer for every single situation.
What You Need to Know About Legal Entities and Financing Options
Part of your decision should include how you're going to finance your properties. Working with a company like ours opens up a lot of creative opportunities for financing. We have solid relationships with more than 60 different lenders who have different standards and underwriting requirements.
One of the best types of financing you can get right now is conventional financing because interest rates are near zero, so it's basically free money! But if you've ever tried to buy real estate with the bank's money, you know this LLC situation can be a little tricky. Many banks won't allow you to purchase real estate in an LLC, because they want you to be personally responsible for paying back the loan.
Non-recourse financing, on the other hand, is a totally different animal. With non-recourse financing, the loan is based on the merit of the investment–not you personally. Because of this, you can easily finance a property using a non-recourse loan within a legal entity like an LLC. Check out my video on non-recourse financing to learn more about this type of loan.
Another option is buying a property through a self-directed IRA, or SDIRA. Let's say you choose to buy your investments in a self-directed IRA. Generally speaking, an LLC + SDIRA combo is not recommended. However, it can be done if it makes sense for your situation.
Why You Need a Customized Plan for Your Investments
As you can see, there are several factors to consider when you're deciding whether or not to set up an LLC for real estate investing. It really depends on the type of protection you're looking for, the purpose of the LLC, the investment type, and more.
But even though there's no simple answer, consider that a good thing. The last thing you want is some cookie-cutter strategy for real estate investing that claims to be a universal solution. You should always do what's best for you, your personal situation, and your goals.
Episode Resources
Book a Call with Our Team
The Power of Non-Recourse Financing for Building Wealth
How to Create Your Personalized Path to Financial Freedom
Join the Financial Freedom Academy
Subscribe to Investing in Real Estate on Apple Podcasts
Download the free Financial Empowerment Bootcamp
Find Your Financial Freedom Number
Subscribe to the Morris Invest YouTube channel
Like Morris Invest on Facebook
DISCLAIMER: I am not a financial adviser. I only express my opinion based on my experience. Your experience may be different. These videos are for educational and inspirational purposes only. Investing of any kind involves risk. While it is possible to minimize risk, your investments are solely your responsibility. It is imperative that you conduct your own research. There is no guarantee of gains or losses on investments.
AFFILIATE DISCLOSURE: Some of the links on this channel are affiliate links, meaning, at NO additional cost to you, I may earn a commission if you click through and make a purchase and/or subscribe. However, this does not impact my opinion. We recommend them because they are helpful and useful, not because of the small commissions we make if you decide to​ use their services. Please do not spend any money on these products unless you feel you need them or that they will help you achieve your goals.
Ready To Build Passive Income Through Rental Real Estate?
Ready to talk about your goals? We're here to show you the tools and teach you the process to begin earning legacy wealth for you and your family.