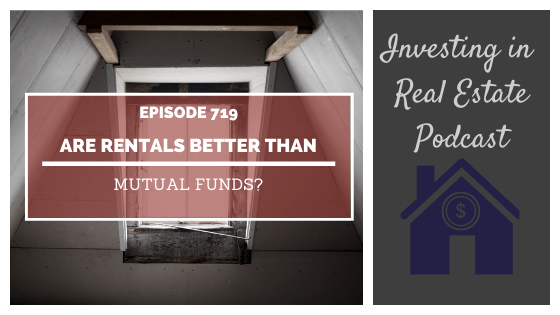 If you had $200,000 to invest, would it be a better choice to buy rental properties or mutual funds? On this Q&A episode, we're going to compare these two scenarios to determine which would be a better long-term investment.
I'll also be answering questions on financing with a self-directed IRA, how to prepare to invest in real estate, and how to determine rental rates. I hope this Q&A empowers and educates you on your real estate journey. Join me for episode 719 of Investing in Real Estate!
On this episode you'll learn:
The main differences between real estate and mutual funds.
How financing works when you make a down payment with your self-directed IRA.
Advice for getting prepared to become an investor.
What you need to know about rental rates.
The Main Differences Between Real Estate and Mutual Funds
When you buy mutual funds, you're basically getting a one-for-one conversion. But because you can finance real estate, you can put down multiple down payments with the same chunk of change—allowing you to receive higher returns while growing your net worth. Investing in real estate also offers tax benefits that the stock market does not. Additionally, when you invest in real estate, you don't have to worry about the volatility of the market if you've done your due diligence.
How Financing Works When You Make a Payment with Your Self-Directed IRA
If you make a down payment with your self-directed account and finance the rest of your investment, there are a few different ways to handle the payment structure. This can vary based on the type of financing you utilize. I'd suggest booking a call with our team to see what the best fit for you is!
Advice for Getting Prepared to Become an Investor
Getting ready to start investing? My best advice is to continue learning and reading. Check out books like:
What You Need to Know About Rental Rates
While it might sound appealing to set your own rental rates, remember that this comes back to basic economics. The market dictates what price is appropriate. Also, your property management team should be up to date with what's normal in your market, so let them guide you!
Episode Resources
Book a Call with Our Team
Truebill.com/investing ← Take control of your finances and start saving today!
morrisinvest.com/Clayton ← Ask me a 30-second question!
10 Things You Must Do Before Investing in Real Estate
Rich Dad Poor Dad by Robert Kiyosaki
Tax-Free Wealth by Tom Wheelwright
Loopholes of Real Estate by Garrett Sutton
How to Pay Off Your Mortgage in 5 Years by Clayton & Natali Morris
morrisinvest.com/bootcamp ← Download your FREE 90-Day Bootcamp!
Subscribe to Investing in Real Estate on iTunes
Find Your Financial Freedom Number
Subscribe to the Morris Invest YouTube channel
Like Morris Invest on Facebook
DISCLAIMER: I am not a financial adviser. I only express my opinion based on my experience. Your experience may be different. These videos are for educational and inspirational purposes only. Investing of any kind involves risk. While it is possible to minimize risk, your investments are solely your responsibility. It is imperative that you conduct your own research. There is no guarantee of gains or losses on investments.
AFFILIATE DISCLOSURE: Some of the links on this channel are affiliate links, meaning, at NO additional cost to you, I may earn a commission if you click through and make a purchase and/or subscribe. However, this does not impact my opinion. We recommend them because they are helpful and useful, not because of the small commissions we make if you decide to​ use their services. Please do not spend any money on these products unless you feel you need them or that they will help you achieve your goals.
Ready To Build Passive Income Through Rental Real Estate?
Ready to talk about your goals? We're here to show you the tools and teach you the process to begin earning legacy wealth for you and your family.