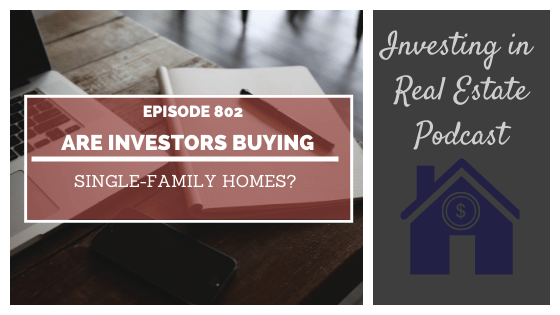 Have you noticed that single family homes are hard to find? There are a lot of things wrong with the housing market right now. We've talked recently about the housing shortage, but today I want to cover one facet of this problem that isn't talked about often—and it's one that affects investors directly.
Big money is cashing in on rental real estate. Specifically, pension funds, investment firms and Wall Street banks are snapping up homes left & right. On this episode of Investing in Real Estate, we're going to talk about why this is happening, what it means for investors, and the implications on the housing market at large.
More About This Show
Why are pension funds buying up single-family homes? Residential real estate is an obvious alternative to commercial real estate, which is harder to come by, and the pandemic proves what I've been saying all along: people will always need a place to live.
Over the past year and half, shopping malls, strip malls, and offices have struggled. What's the alternative? Residential real estate. With more people than ever working from home, single-family housing is a safe investment.
So big money is buying (and building) properties… is that a good or bad thing? Well, the jury is still out on that. Analysts claim that it COULD improve industry standards and offer more choices. More housing is good right?
However, tenants who rent from these big companies beg to differ. They claim worse services and increased pricing. I think this is valid: would you rather rent a place from a regular person or a big company? There's a human aspect in this business that is important. For me and the investors I know, rental real estate is a great means to building wealth—but that's not all. It's also about providing a great home. A pension fund can not offer compassion to a veteran who is late on rent, or a mom who is struggling around the holidays.
What about the effects of pricing? It depends. Previously on the show, we've the housing shortage and how supply and demand is at play. If these large institutions are building new homes, that could be a good way to bring prices and rents down.
Alternatively if they're just buying up existing properties, that could squeeze out a lot of small mom & pop investors and first time homebuyers—just contributing further to shortages and pricing issues.
There is a lot that goes into this, so I'm going to link a couple articles in the resources section for you to check out if you're interested. I'd love to hear your thoughts on this. Click on the video below to leave me a comment on YouTube.
Episode Resources
Book a Call with Our Team
Wall Street Is Buying Up Single-Family Homes
See the Wall Street Investors Buying Single-Family American Homes
What Is Full-Service Real Estate?
morrisinvest.com/bootcamp ← Download your FREE 90-Day Bootcamp!
Subscribe to Investing in Real Estate on iTunes
Find Your Financial Freedom Number
Subscribe to the Morris Invest YouTube channel
Like Morris Invest on Facebook
DISCLAIMER: I am not a financial adviser. I only express my opinion based on my experience. Your experience may be different. These videos are for educational and inspirational purposes only. Investing of any kind involves risk. While it is possible to minimize risk, your investments are solely your responsibility. It is imperative that you conduct your own research. There is no guarantee of gains or losses on investments.
AFFILIATE DISCLOSURE: Some of the links on this channel are affiliate links, meaning, at NO additional cost to you, I may earn a commission if you click through and make a purchase and/or subscribe. However, this does not impact my opinion. We recommend them because they are helpful and useful, not because of the small commissions we make if you decide to​ use their services. Please do not spend any money on these products unless you feel you need them or that they will help you achieve your goals.
Ready To Build Passive Income Through Rental Real Estate?
Ready to talk about your goals? We're here to show you the tools and teach you the process to begin earning legacy wealth for you and your family.