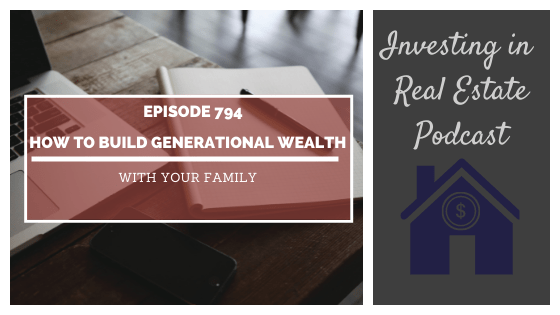 Money can be a touchy subject. In fact, finances are the number one issue that couples fight about. A common theme that I hear often is that one partner is set on building wealth through real estate but the other one just isn't so sure!
If this sounds like you, please know you're not alone. I've been there too, and it took a lot of experience, introspection, and hard lessons to get our family on one page. We're not perfect, but we've made a lot of progress over the years. On this episode of Investing in Real Estate, I'm sharing a handful of tips you can use to get on the same page as your partner and build generational wealth not only for your family, but with your family.
More About This Show 
Start with mindset. Recognize your fears and limiting beliefs about money. Most of us have these, but overcoming them requires a lot of reflection and reframing. Consider your fears, and where they stem from. Realize that most of these fears never become a reality. I've discussed before that I'd been engrained with limiting beliefs about money, and I don't think that's rare. Many of us hold some sort of fear about money. Even if these fears aren't rational, they can feel very real! And when those fears are threatened, they can explode into a plethora of emotions. If you don't know where to start, we have an exercise on fears and mindset in the Financial Freedom Academy.
Know your numbers. Think about your Freedom Number, and calculate your net worth. If you understand your goals and where you're headed, you'll be more centered in reality.
Have a mission. I talk a lot about having "your why," and I think that is equally important for your family as well. A number of years ago, we did a podcast episode on writing a family mission statement. This was not our idea, but an exercise from a book.. and I think it's brilliant! When you write out a family mission statement, you have your principles and values literally written out in black and white. So if you're ever faced with a difficult decision or you lose your direction, you can always turn back to those guiding principles and shared values.
Involve the entire family, including your children. One of the most important steps in your wealth building is creating your legacy wealth. Your children are never too young to learn the concept of money and wealth building. Obviously you will need to use an age appropriate approach. One example is creating accounts for your children and allow them to track their own usage. I know my sister uses the GreenLight cards which still allows her control on her children's spending but gives them a sense of responsibility and basic money management. Involve the children in discussions about investing as well, introducing basic financial terminology creates a foundation for their future financial intelligence.
Make and trust your plan. You all need to be the same page, but if your plan is based on shared values, you can move in the right direction intentionally.
Episode Resources
Book a Call with Our Team
Beamorganics.com/investing ← Get 40% off the first three months of your subscription!
morrisinvest.com/bootcamp ← Download your FREE 90-Day Bootcamp!
Subscribe to Investing in Real Estate on iTunes
Find Your Financial Freedom Number
Subscribe to the Morris Invest YouTube channel
Like Morris Invest on Facebook
DISCLAIMER: I am not a financial adviser. I only express my opinion based on my experience. Your experience may be different. These videos are for educational and inspirational purposes only. Investing of any kind involves risk. While it is possible to minimize risk, your investments are solely your responsibility. It is imperative that you conduct your own research. There is no guarantee of gains or losses on investments.
AFFILIATE DISCLOSURE: Some of the links on this channel are affiliate links, meaning, at NO additional cost to you, I may earn a commission if you click through and make a purchase and/or subscribe. However, this does not impact my opinion. We recommend them because they are helpful and useful, not because of the small commissions we make if you decide to​ use their services. Please do not spend any money on these products unless you feel you need them or that they will help you achieve your goals.
Ready To Build Passive Income Through Rental Real Estate?
Ready to talk about your goals? We're here to show you the tools and teach you the process to begin earning legacy wealth for you and your family.