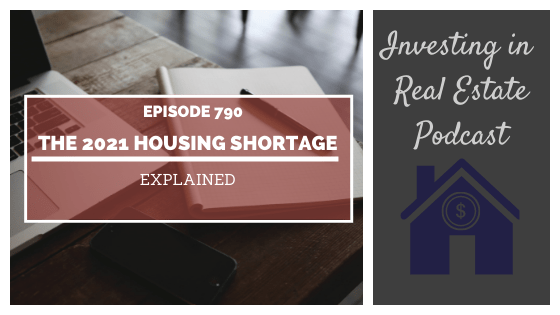 According to a recent report by Realtor.com, there's a huge imbalance in the supply of homes and the number of people who want to become homeowners. They estimate that the US needs over 5 million homes. Now, this isn't a new problem – but it's certainly not improving.
For reference, in 2019, the same report found a shortage of 3.84 million. But between the pandemic and the red-hot 2021 housing market, things aren't looking good. On this episode of Investing in Real Estate, I'm sharing more data about the state of the housing market, and what it means for you as an investor.
More About This Show
Let's dive into a few factors that have led us to this state:
Worker shortage. Earlier this year, a report released by the Home Builders Institute estimated that the construction industry is short 200,000 workers.

Disruptions in chain supply. Essential items like lumber and paint have been difficult to obtain in large quantities – which also has spiked the prices. Supply and demand!

Millennials coming of age. It's estimated that 12.3 million new households have been formed since 2012, but only 7 million homes were built during this time. The millennial generation is huge – and now as they look to settle into homes, this is just exacerbating the issue of a shrinking inventory.
What does a housing shortage mean for investors?
As you know, one of the most important components of making a solid investment is buying right – and that can be hard to do right now with low inventory and overpriced homes in most markets.
But on the other hand, with interest rates being so low – it's a great time to lock in those rates. So if you're able to find a deal where the number makes sense, I think you should go for it!
If you have the ability to build or find a new construction property, I think that's a great way to move the needle on this shortage. Of course, this alone isn't solving the entire problem. There's a lot that goes into economic problems, labor shortages, etc.
But when you can add affordable housing to any market, that's something you should feel good about.
Not to pat myself on the back too much, but our team has been personally thanked by the mayor in Lubbock as a result of our continued building of quality new construction homes to help fill the housing need as the population increases in that area.
I'm passionate about our new construction rental properties for many reasons, and a big part of that is being part of the solution to this affordable housing crisis. If you haven't yet seen my video on why we build new construction rental properties, go ahead and check that one out.
Episode Resources
Book a Call with Our Team
MasterWorks.io/investing
morrisinvest.com/bootcamp ← Download your FREE 90-Day Bootcamp!
Subscribe to Investing in Real Estate on iTunes
Find Your Financial Freedom Number
Subscribe to the Morris Invest YouTube channel
Like Morris Invest on Facebook
DISCLAIMER: I am not a financial adviser. I only express my opinion based on my experience. Your experience may be different. These videos are for educational and inspirational purposes only. Investing of any kind involves risk. While it is possible to minimize risk, your investments are solely your responsibility. It is imperative that you conduct your own research. There is no guarantee of gains or losses on investments.
AFFILIATE DISCLOSURE: Some of the links on this channel are affiliate links, meaning, at NO additional cost to you, I may earn a commission if you click through and make a purchase and/or subscribe. However, this does not impact my opinion. We recommend them because they are helpful and useful, not because of the small commissions we make if you decide to​ use their services. Please do not spend any money on these products unless you feel you need them or that they will help you achieve your goals.
Ready To Build Passive Income Through Rental Real Estate?
Ready to talk about your goals? We're here to show you the tools and teach you the process to begin earning legacy wealth for you and your family.