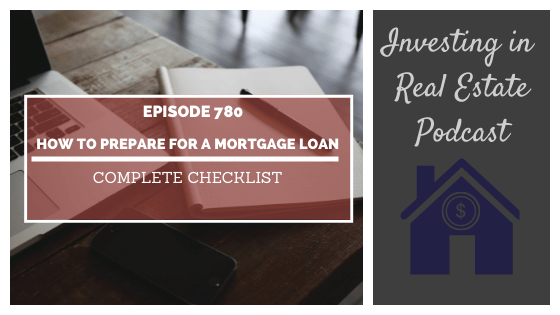 When you're growing your real estate portfolio, you're likely to utilize a few different lending options. And if you've ever been through this process, you know that it can be quite grueling. Lenders will ask you for a ton of documents, credit checks, statements, proof of employment, and more personal information. I've been through this process personally many times, plus we sometimes see clients face some turbulence when applying for loans simply because they didn't realize what goes into the loan approval process. It really can be a delicate balance, and there are certain things you should NEVER do when you're applying for a loan.
On today's show, I'm going to run through a list of 5 don'ts that banks want you to avoid while you're going through the loan process. The sooner you know these little hints the better off you will be in the long run. I hate to see someone lose out on a deal because of lack of understanding. Press play to hear these five tips!
More About This Show
Don't use a cash advance from a credit card for the down payment during the loan process. This could create a ding on your credit score for a larger amount of revolving debt. It can play a factor in your eligibility, so be careful on what funds you use to pay the down payment. There is the possibility of being denied for the loan or it could cause your interest rate to bump up. Be prepared to explain, possibly even by letter, where your down payment is coming from if it isn't already in your account.
Don't apply for any NEW credit while your loan is processing. Definitely wait to apply for that new store credit card or purchase that new car until your loan is done processing. Again, any more open debt on your credit report will effect your eligibility and interest rate.
Don't quit your job! Have a fight with your boss? Can't handle the commute even one more day? Well my friend, you need to if you are applying for a new loan. Not only do lenders like you having a job they like a consistent job history so hold out just a bit longer.
Avoid moving large amounts of money in or out of primary bank accounts while your loan is funding. Pretty much just try to keep all accounts the same until your loan is finalized, seems simple, right? I can't tell you the amount of stories I have heard of people just not thinking and moving money around and getting stuck having to explain or creating a workaround because of this silly mistake.
Keep all of your credit accounts current, don't let any payments go unpaid or unattended. Pay your bills! I know we all have been there and forgotten a month in our lives but do not let that happen. Set reminders, put it in your calendar or better yet set up auto-payments on your existing bill pay accounts. Do not default on anything during this process.
Episode Resources
Book a Call with Our Team
SimpliSafe.com/investing ← Get 20% off your entire new system + first month of monitoring service FREE!
JoinCrowdHealth.com/99 ← Use promo code INVESTING to get your first six months at $99/month!
Loan Application PDF
Scoremaster.com/invest
morrisinvest.com/bootcamp ← Download your FREE 90-Day Bootcamp!
Subscribe to Investing in Real Estate on iTunes
Find Your Financial Freedom Number
Subscribe to the Morris Invest YouTube channel
Like Morris Invest on Facebook
DISCLAIMER: I am not a financial adviser. I only express my opinion based on my experience. Your experience may be different. These videos are for educational and inspirational purposes only. Investing of any kind involves risk. While it is possible to minimize risk, your investments are solely your responsibility. It is imperative that you conduct your own research. There is no guarantee of gains or losses on investments.
AFFILIATE DISCLOSURE: Some of the links on this channel are affiliate links, meaning, at NO additional cost to you, I may earn a commission if you click through and make a purchase and/or subscribe. However, this does not impact my opinion. We recommend them because they are helpful and useful, not because of the small commissions we make if you decide to​ use their services. Please do not spend any money on these products unless you feel you need them or that they will help you achieve your goals.
Ready To Build Passive Income Through Rental Real Estate?
Ready to talk about your goals? We're here to show you the tools and teach you the process to begin earning legacy wealth for you and your family.