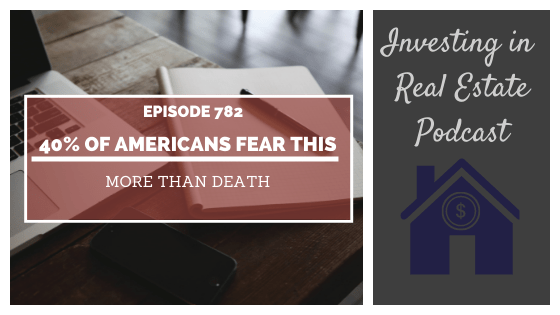 A recent study found that a whopping 40% of Americans fear retirement more than death. Today we're going to dive into why that is, take a look at the study, and talk about what you can do if retiring scares you!
What causes this fear and uncertainty? Simply put: a lack of planning and a lack of financial education.
68% of people said they thought their social security benefits will be enough to live on. I hate to break it to you, but this is a poor plan! On this episode of Investing in Real Estate, we're going to talk about this fear of retirement and how you can live financially free, now and into your retirement!
More About This Show
If you're relying on basics like Social Security or a 401k for retirement, that's just not going to cut it. Sure, they can be a part of your overall retirement, but it's going to take more than that to cover your expenses and live financially free.
Another particularly interesting thing in this study is the methods people are relying on to save for retirement.
Cash came out on top with 71% saying they're using this method. But with current interest rates for savings accounts running at less than 1%, those savings are not growing!
If this study resonates with you, I want to touch on a few things you can do to face the fear of retirement head on:
Run your numbers. If you don't know what your expenses are, you can't possibly know how much you need for retirement. Start with my Freedom Cheat Sheet.
Start thinking about streams of income. A cash-based bank account is not going to go very far. What else can you do to bring monthly income in? Watch my video on places you might find a hidden down payment.
Check for old 401k's you may have forgotten about
Pull money from stocks to invest in real estate for more stability and monthly cash flow
Put savings in a high-interest account like Outlet
Work on paying off high interest debt to eliminate extra expenses in retirement
Don't fall into the trap of assuming you're too young OR too old to plan for retirement. Now is always the right time.
Consider converting IRAs and into self-directed accounts. This gives you the authority to have more control over your investments.
Episode Resources
Book a Call with Our Team
Justworks.com ← Find out how Justworks can help your business!
morrisinvest.com/outlet
5 Hidden Places to Find a Down Payment
morrisinvest.com/bootcamp ← Download your FREE 90-Day Bootcamp!
Subscribe to Investing in Real Estate on iTunes
Find Your Financial Freedom Number
Subscribe to the Morris Invest YouTube channel
Like Morris Invest on Facebook
DISCLAIMER: I am not a financial adviser. I only express my opinion based on my experience. Your experience may be different. These videos are for educational and inspirational purposes only. Investing of any kind involves risk. While it is possible to minimize risk, your investments are solely your responsibility. It is imperative that you conduct your own research. There is no guarantee of gains or losses on investments.
AFFILIATE DISCLOSURE: Some of the links on this channel are affiliate links, meaning, at NO additional cost to you, I may earn a commission if you click through and make a purchase and/or subscribe. However, this does not impact my opinion. We recommend them because they are helpful and useful, not because of the small commissions we make if you decide to​ use their services. Please do not spend any money on these products unless you feel you need them or that they will help you achieve your goals.
Ready To Build Passive Income Through Rental Real Estate?
Ready to talk about your goals? We're here to show you the tools and teach you the process to begin earning legacy wealth for you and your family.