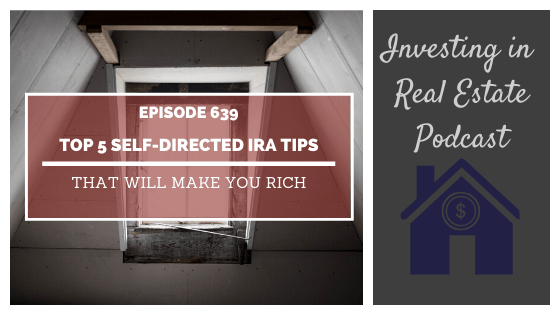 Self-directed IRAs have the potential to help you maximize your retirement fund. As well, this investment vehicle provides the opportunity to become rich. If you play your cards right, a self-directed IRA can be a great tool on your wealth building journey.
On today's show, you're going to learn five tips to grow your wealth in an SDIRA. You'll learn about choosing a custodian, diversifying your portfolio, and so much more!
1. Start Your Self Directed Individual Retirement Account Early
If you currently do not hold a self directed IRA, we suggest that you start investing in one as soon as possible. This self directed IRA tip is valuable when it comes to securing a comfortable nest egg that you can depend on later in life. It's common for younger individuals that are in their 20s and 30s to not realize the importance of investing in their future. As they approach the age of retirement, they then regret not starting their retirement investment plan earlier in life. By then, unfortunately, it may be too late.
2. Choose a Self Directed IRA Custodian Carefully
Selecting a capable and trustworthy self directed IRA custodian is essential when it comes to properly growing your retirement funds. If you're unfamiliar with the term, a custodian holds the self directed IRA assets, as well as buys or sells investments on behalf of the client. Experienced custodians are capable of dealing with the complexities of an SDIRA. They will be aware of wise investment choices and prohibited transactions.
3. Diversify with Lucrative Self Directed IRA Investment Assets
Asset diversification is one of the most popular reasons many investors prefer to self direct their IRA. Being able to invest in more than just stocks, bonds, mutual funds, and CDs opens up an opportunity to use your special interests and expertise to maximize your retirement funds. In addition to this, when you utilize other investment avenues, you can protect your retirement funds from the ups and downs of the stock market
4. Acquire Financially Out of Reach Assets with Co-Investing
Co-investing is one of the more creative self directed IRA tips. It allows for investing in assets that you may not have the funds to invest in yourself. This particularly comes in handy with more expensive assets such as real estate. You may co-invest your self directed Individual Retirement Account funds with another SDIRA. This can include SDIRAs that belong to your spouse, other family members, as well as yourself. Partnering IRAs can open up a variety of investment opportunities that can build great wealth.
5. Consider a Backdoor Roth IRA Contribution
Before we dive into backdoor Roth IRA contributions, let's start with the basics of what a self directed Roth IRA entails. In general, it's a retirement account that differs from a conventional IRA in that you can't write off or take advantage of tax deductions from your contributions. At the same time, your earnings are tax-free with a self directed Roth IRA, even when you withdraw them during your retirement years. This is an exceptionally smart investment strategy because tax rates may go up by the time you retire. The bottom line is that a self directed Roth IRA allows you to withdraw your savings without owing taxes.
Episode Resources
Book a Call with Our Team
WealthAbility 
Tax-Free Wealth by Tom Wheelwright
DealCheck
Corporate Direct 
WeBull
Subscribe to Investing in Real Estate on Apple Podcasts
Find Your Financial Freedom Number
Subscribe to the Morris Invest YouTube channel
Like Morris Invest on Facebook
DISCLAIMER: I am not a financial adviser. I only express my opinion based on my experience. Your experience may be different. These videos are for educational and inspirational purposes only. Investing of any kind involves risk. While it is possible to minimize risk, your investments are solely your responsibility. It is imperative that you conduct your own research. There is no guarantee of gains or losses on investments.
AFFILIATE DISCLOSURE: Some of the links on this channel are affiliate links, meaning, at NO additional cost to you, I may earn a commission if you click through and make a purchase and/or subscribe. However, this does not impact my opinion. We recommend them because they are helpful and useful, not because of the small commissions we make if you decide to​ use their services. Please do not spend any money on these products unless you feel you need them or that they will help you achieve your goals.
Ready To Build Passive Income Through Rental Real Estate?
Ready to talk about your goals? We're here to show you the tools and teach you the process to begin earning legacy wealth for you and your family.