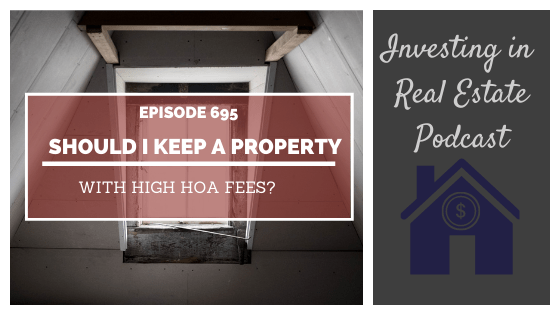 If your rental property costs you a boatload in homeowner association fees every month, should you keep it and wait for it to appreciate or sell it and buy more investments? That's the first question I'm answering on today's Q&A Monday!
On this episode, I'm tackling three listener questions about HOA fees, purchasing real estate in the US from abroad, and the best practices for quickly paying back a private money lender. Press play to hear my advice on this episode of Investing in Real Estate.
On this episode you'll learn:
What to do if your property has high HOA fees.
How to buy US real estate from abroad.
The best way to quickly pay back a private lender.
And more!
What to Do If Your Property Has High HOA Fees
Other than the fact that they can be costly, here's my main issue with HOAs: they have a lot of power. If your rental property belongs to a homeowner association, you should know that the rules can change at the stop of the dime. They can require you to make costly repairs, or even worse—they can decide to prohibit rentals in the neighborhood. Given the chance to sell a property with an HOA in order to buy more rental properties, I'd take that option any day!
How to Buy US Real Estate From Abroad
I get it, buying US real estate as an international investor sounds intimidating. The truth is, it's not that complicated. International investors have a few additional hoops and hurdles to jump through, but the profits are well worth it. Especially with non-recourse financing, the United States is the number one place to invest. For more, check out my video series and blog post.
The Best Way to Pay Back a Private Lender
If possible, designate your private money lender as first lien holder. This ensures they gain ownership of the property should things go awry. I would suggest making your promissory note flexible in terms of the length. That way, once the property has a tenant in place, you can refinance with the bank and pay your lender back ASAP.
Episode Resources
Bambee.com/investing ← Schedule your free HR audit!
Book a Call with Our Team
morrisinvest.com/Clayton
Best Strategies for Buying US Real Estate If You're a Foreign Investor 
US Real Estate Investing Videos
Download the free Financial Empowerment Bootcamp
Download the Freedom Cheat Sheet
Subscribe to Investing in Real Estate on iTunes
Find Your Financial Freedom Number
Subscribe to the Morris Invest YouTube channel
Like Morris Invest on Facebook
DISCLAIMER: I am not a financial adviser. I only express my opinion based on my experience. Your experience may be different. These videos are for educational and inspirational purposes only. Investing of any kind involves risk. While it is possible to minimize risk, your investments are solely your responsibility. It is imperative that you conduct your own research. There is no guarantee of gains or losses on investments.
AFFILIATE DISCLOSURE: Some of the links on this channel are affiliate links, meaning, at NO additional cost to you, I may earn a commission if you click through and make a purchase and/or subscribe. However, this does not impact my opinion. We recommend them because they are helpful and useful, not because of the small commissions we make if you decide to​ use their services. Please do not spend any money on these products unless you feel you need them or that they will help you achieve your goals.
Ready To Build Passive Income Through Rental Real Estate?
Ready to talk about your goals? We're here to show you the tools and teach you the process to begin earning legacy wealth for you and your family.