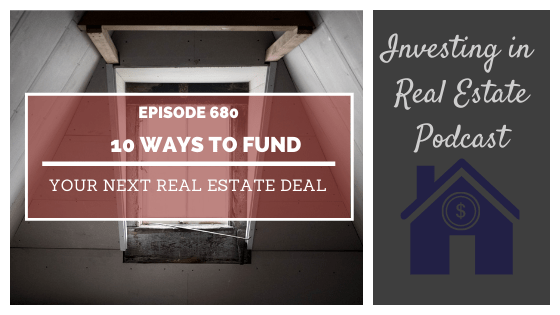 One of the most common questions I get is: "how should I fund my real estate deal?" Whether it's your first rental property or you're an old pro, there isn't a simple answer to this question.
On this episode of Investing in Real Estate, I'm going to share ten different avenues you can pursue to purchase your next rental property. How you fund your properties will depend on many different factors: your goals, your finances, and where you are on your unique journey. I hope this episode inspires you to think creatively about your next performing asset!
More About This Show
1) Cash. This is the most obvious way to purchase a rental property. If you've got cash set aside in a savings account collecting a minuscule amount of interest, why not instead collect high ROI on a cash flowing rental property? It's understandable that it might seem risky to use that pile of cash, but streams of cash are far more powerful. Money sitting in the bank is doing you no favors.
2) Business credit cards. If you've got decent personal credit, 0% interest business credit cards are an incredible way to purchase your next investment. We've teamed up with an amazing company to help our clients secure 0% interest credit. If this sounds like a fit for you, you can save $500 by visiting morrisinvest.com/funding.
3) Private money. Private money refers to any money that you borrow from anyone but the bank. If you've got a wealthy friend or relative, they could act as your lender. Otherwise, you can dive into the world of real estate professionals and make a connection. The beauty of private money is that because it's not regulated by the government, you get to write your own rules.
4) Home equity. If you own your primary residence, using a HELOC is a fantastic way to access cash to purchase a rental property. A HELOC allows you to take out a line of credit based on the amount of equity in your home. This can also be done on existing rental properties. Typically, a HELOC is a great banking product, and it's accessible to many people.
5) 401k. If you have a 401k through your employer, your plan likely allows you to take out one loan per year. This is a fantastic strategy, because you're in essence, paying the interest back to yourself. The best part? There's never been a better time to access your retirement funds. See my video on the CARES Act to learn more.
6) Self-Directed IRA. A self-directed IRA is a retirement account that allows the owner more control over where their money performs. Being strategic within a self-directed IRA allows the investor many possibilities, including investing in real estate! We've put together a comprehensive video on how to use this strategy.
7) 1031 Exchange. If you already own a rental property that doesn't perform as well as you'd hoped, a 1031 exchange might be right for you. This one is a bit of an advanced strategy. If you think you are a good candidate for a 1031 exchange, let our team of experts guide you through the process. Book a free call at morrisinvest.com.
8) Hard money. Hard money lenders are like bankers, but because they are not regulated by the government, they can set their own rules and lend with looser standards. They don't care as much about your credit score and they don't limit you to one investment at a time. Although you can expect higher interest rates, hard money can be helpful if you're ready to take action.
9) Non-recourse financing. A non-recourse loan is based on the merit of the asset, and not so much the investor. There are a number of reasons why you might consider: whether you're an international investor, have less than excellent credit history, or simply want an asset-based loan. Non-recourse loans can be a fit for many different types of investors.
10) Partner up! If you've got a smaller chunk of change set aside, and a buddy or two on the same page, why not pool your funds together and become business partners? This can be a great way to get your foot in the door because it allows you to get started with much less money down.
BONUS METHOD: our client referral program!
How it works:
1. Refer someone to Morris Invest who ends up buying an investment property
2. Receive $1,500 credit toward a new property (or closing costs) for you
3. Repeat Until You Get a Free House – Use your credit immediately or stock up until you get an entire property for free!
Go to morrisinvest.com/refer to read rules & disclaimers and to fill out the referral form.
Episode Resources
Tiege.com/investing ← Get a free toiletry bag with your first box!
KEEPS.com/invest ← Receive your first month of treatment for free!
Book a Call with Our Team
morrisinvest.com/funding
CARES Act Benefits for Real Estate Investors 
The Power of a Self-Directed IRA for Building Wealth
The Power of Non-Recourse Financing for Building Wealth
morrisinvest.com/refer
Download the free Financial Empowerment Bootcamp
Download the Freedom Cheat Sheet
Subscribe to Investing in Real Estate on iTunes
Find Your Financial Freedom Number
Subscribe to the Morris Invest YouTube channel
Like Morris Invest on Facebook
DISCLAIMER: I am not a financial adviser. I only express my opinion based on my experience. Your experience may be different. These videos are for educational and inspirational purposes only. Investing of any kind involves risk. While it is possible to minimize risk, your investments are solely your responsibility. It is imperative that you conduct your own research. There is no guarantee of gains or losses on investments.
AFFILIATE DISCLOSURE: Some of the links on this channel are affiliate links, meaning, at NO additional cost to you, I may earn a commission if you click through and make a purchase and/or subscribe. However, this does not impact my opinion. We recommend them because they are helpful and useful, not because of the small commissions we make if you decide to​ use their services. Please do not spend any money on these products unless you feel you need them or that they will help you achieve your goals.
Ready To Build Passive Income Through Rental Real Estate?
Ready to talk about your goals? We're here to show you the tools and teach you the process to begin earning legacy wealth for you and your family.