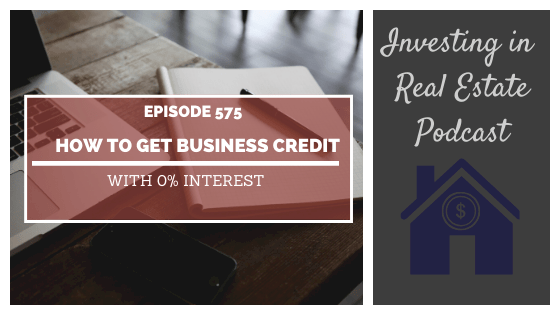 Book a call with our team: https://go.oncehub.com/morrisinvest
Save $500 off your sign-up fee by visiting morrisinvest.com/funding
This episode is also sponsored by Fiverr! Thanks to Fiverr, finding the right freelancer doesn't have to be a struggle. Fiverr's marketplace helps you get more done with less. Fiverr connects businesses with freelancers who offer hundreds of digital services including graphic design, copywriting, web programming, film editing, and more. Take Five and check out FIVERR.com and you will receive 10% off your first order by using my code INVESTING.
Do you need funding for your small business or for real estate investing? Today we're sharing a game changing strategy you can use to attain business funding at 0% interest! Mike Banks from Fund&Grow is back to let you in on how you can jumpstart your business goals with their done-for-you service.
On this episode of Investing in Real Estate, you're going to learn how Fund&Grow can help you establish business lines of credit to start-up your business or purchase real estate. You'll learn how the process works from start to finish, including main qualifications, timelines and more. Ready to fund your next business idea? Press play to learn if Fund&Grow is a fit for you!
On this episode you'll learn:
How business lines of credit affect your personal credit.
How Fund&Grow saves you time.
What Fund&Grow's membership is like, and how many rounds of funding it includes.
How refinancing works with this process.
What Plastiq is, and how it streamlines using business credit cards.
What qualifications you need to be approved for business credit lines.
The benefits of working with Fund&Grow vs. doing it yourself.
What the Fund&Grow timeline is like.
How to save $500 off your sign-up fee.
Episode Resources
Fiverr
https://morrisinvest.com/funding
Subscribe to Investing in Real Estate on Apple Podcasts
Find Your Financial Freedom Number
Subscribe to the Morris Invest YouTube channel
Like Morris Invest on Facebook
Contact Fund&Grow
Website
Facebook
Twitter
LinkedIn
If you're ready to begin building a passive income through rental real estate, book a FREE call with our team today. We're ready to talk about your goals and want to help you learn more about earning legacy wealth for you and your family.
Ready To Build Passive Income Through Rental Real Estate?
Ready to talk about your goals? We're here to show you the tools and teach you the process to begin earning legacy wealth for you and your family.