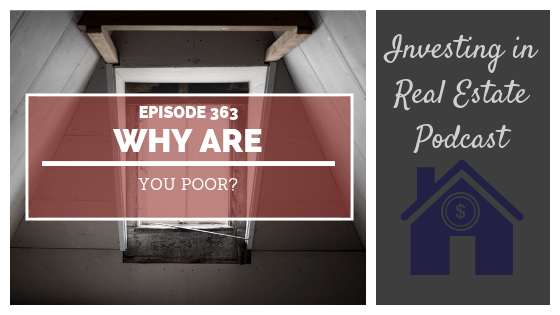 EP363: Why Are You Poor?
Book a call with our team: https://go.oncehub.com/morrisinvest
This episode of Investing in Real Estate is sponsored by Vistaprint. With Vistaprint, you can create a truly professional, unique business card in minutes. Vistaprint is offering you  500 high-quality, custom business cards starting at $9.99. Visit Vistaprint.com and use code INVESTING.
What makes some people wealthy, while others seem perpetually stuck in the lower or middle class? I've found that there's one key area that financially intelligent people focus on that others don't.
On today's show, you'll learn about why this one key area is so important for wealth building, how to start changing your mindset, and begin building financial freedom. If you're interested in learning more about wealth building, this episode is for you!
On this episode you'll learn:
Why the middle classes mentality.
The one tool you need to change your financial situation.
What poor people focus on.
Why being employed and being self-employed are similar.
How you can build financial intelligence.
And much more!
Episode Resources
Vistaprint
The E-Myth by Michael Gerber
Subscribe to Investing in Real Estate on Apple Podcasts
Find Your Financial Freedom Number
Subscribe to the Morris Invest YouTube channel
Like Morris Invest on Facebook
If you're ready to begin building a passive income through rental real estate, book a FREE call with our team today. We're ready to talk about your goals and want to help you learn more about earning legacy wealth for you and your family.
Ready To Build Passive Income Through Rental Real Estate?
Ready to talk about your goals? We're here to show you the tools and teach you the process to begin earning legacy wealth for you and your family.