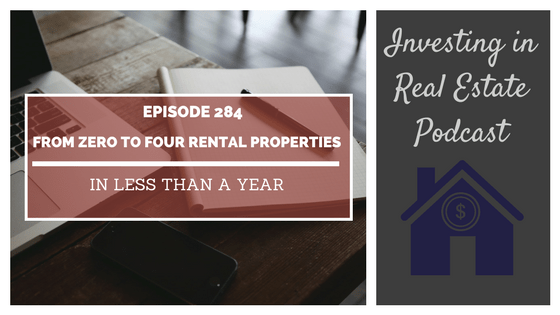 EP284: From Zero to Four Rental Properties in Less Than a Year [Case Study]/p>
Book a call with our team: https://go.oncehub.com/morrisinvest
This episode of Investing in Real Estate is sponsored by ZipRecruiter. With ZipRecruiter, you can post your job to 100 plus job sites with just one click. Find out today why ZipRecruiter has been used by businesses of ALL sizes to find the most qualified job candidates with immediate results. Visit ZipRecruiter.com/investing to post your job for free!
Nothing makes me happier than hearing stories of investors who overcame their fears and took action. Today's guests are living proof of how quickly your life can change when you put your intention toward creating financial freedom.
On this episode of Investing in Real Estate, I'm sitting down with a husband and wife real estate investing team to discuss how they acquired four properties in less than a year! We're talking about how they overcame their fears, how they financed their properties, and how they plan to grow their business going forward. Don't miss this case study episode!
More About This Show
Jahbari and Shania were both college athletes who came from a Dave Ramsey "no debt" mindset. But things changed when they started learning about the benefits of owning rental real estate. Both avid learners, Shania dove into our podcast while Jahbari read Robert Kiyosaki's books.
They both came to the conclusion that in order to reap the benefits of real estate investing, they would have to overcome their fears about acquiring debt. They took out a construction loan in order to acquire their first rental property.
Then they used the BRRR Method in order to expand their portfolio. They're also looking into partnering with Fund&Grow in order to reach their goal: to have a portfolio of 12 properties this year.
On today's show, Jahbari and Shania are speaking extensively about how they work to overcome their fears. We'll talk about debt structure, and why it's okay to make mistakes. They'll share their quest for financial education, and the smart strategies they've employed in order to create wealth. This case study is so inspiring; you won't want to miss episode 284 of Investing in Real Estate!
If you're ready to begin building a passive income through rental real estate, book a FREE call with our team today. We're ready to talk about your goals and want to help you learn more about earning legacy wealth for you and your family.
On this episode you'll learn: 
How have Jahbari and Shania structured their business entities?
What types of properties are ideal for using the BRRR Method?
What is Jahbari and Shania's motivation for building wealth?
And much more!
Episode Resources
ZipRecruiter 
Rich Dad Poor Dad by Robert Kiyosaki
Cashflow Quadrant by Robert Kiyosaki
Fund&Grow
York, Howell, & Guymon
BRRR Method
Subscribe to Investing in Real Estate on iTunes
Find Your Financial Freedom Number
Subscribe to the Morris Invest YouTube channel
Like Morris Invest on Facebook
Ready To Build Passive Income Through Rental Real Estate?
Ready to talk about your goals? We're here to show you the tools and teach you the process to begin earning legacy wealth for you and your family.