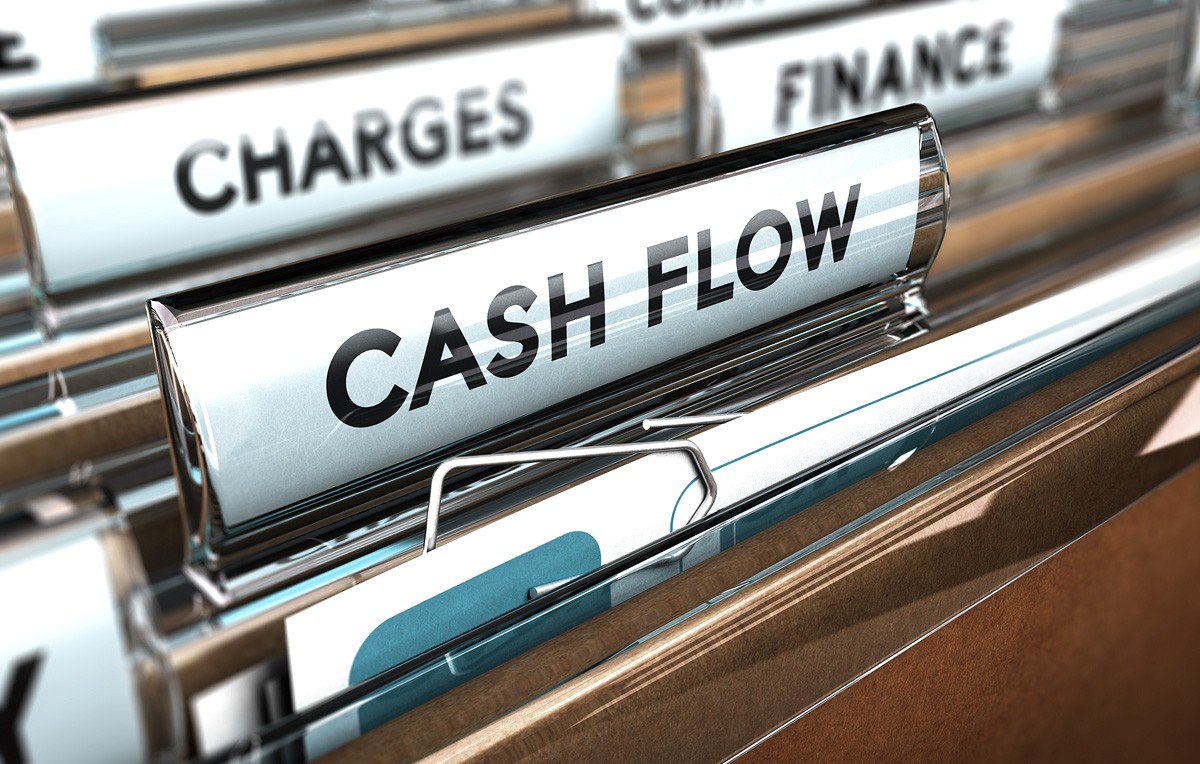 Whether you're a large-scale organization, a small business owner, an independent real estate investor, or even a self-employed freelancer, understanding cash flow and how to maximize it may just be your ticket to financial independence. Proper cash flow is the livelihood of any start-up or established company, and allows for stability, growth, as well as the ability to stay in business. With that said, let's get started and dive into the world of cash flow so you can ensure you're on top of your game financially.
What is Cash Flow?
The definition of cash flow is the act of cash or cash equivalents flowing in and out of a business within a certain timeframe. Positive and negative cash flows are taken into account to evaluate a company's financial health, as well as determine allowable expenditures. Additionally, a cash flow statement is used to determine the status of a company's financial situation.
How to Calculate Cash Flow
The following cash flow formula is used after a cash flow statement is completed. We will cover cash flow statements, as well as the three elements that are included in the following formula (operating, investing, financing), later in this article.
Formula for Calculating Cash Flow
Cash flow (=) Cash from Operating Activities (+) Cash from Investing Activities (+) Cash from Financing Activities
Some Basic Definitions
For those who may be new to this topic, we want to ensure that you will fully grasp the meaning of cash flow. With that said, let's dig a little deeper into some of the main aspects of it:
Cash Inflows: This is money or its equivalent that flows into a business from things such as sales, royalties, bank loans, interest, grants, tax refunds, investment income, and the like.
Cash Outflows: This is money or its equivalent that flows out of a business. It can include such things as payroll, advertising fees, legal costs, interest/principal paid on a loan, insurance, repairs and maintenance costs, purchase of fixed assets, rent, and other expenses.
Positive Cash Flow: A positive cash flow status means more cash is flowing into your business than it is flowing out. For instance, if a company has $10,000 in revenue, and $6,000 in expenses, it's recorded as a positive cash flow. This allows for reinvestments, liabilities to be paid, profits taken, and essentially aids in company growth.
Negative Cash Flow: This status occurs when there is more outgoing cash than there is incoming cash during a specific timeframe. For example, if a business has $10,000 in revenue, but also has $12,000 in expenses, it's considered a negative cash flow. A business can only survive so long when it consistently has a negative cash flow.
What is Free Cash Flow and How is it Different from Standard Cash Flow: While cash flow is how much cash is transferring in and out of a business, free cash flow is the amount of cash that is actually free. For instance, a company may record that it has an operating cash flow of $30 million, but needs to reserve $5 million for specific ongoing expenses. This leaves $25 million in free cash flow. It can be a measurement tool in determining how much cash flow can be distributed to stockholders, security holders, and the like. It's also sometimes used to come up with a number that represents a company's value.
What are the Three Types of Cash Flows?
A cash flow statement, which we will discuss next, contains three main cash flow categories – operating, investing, and financial – let's go over each one in detail:
1. Operating Cash Flow
This is the measure of cash generated from the core operations of a business. It shows if business operations are sufficient enough to maintain and grow the company. If it's revealed that it's not, then the company may need to change their operating procedures, as well as possibly seek assistance by obtaining financing.
One example of a "core operation" is a company's ability to collect debts in an efficient manner. For instance, let's use two advertising agencies as an example – Agency 1 and Agency 2. Both companies happen to make the same net profit of $20,000. However, Agency 1 tends to not be organized in its collection processes and seems to come up short frequently, causing the business to also fall short of being able to pay their rent and liability insurance. On the other hand, Agency 2 has an outstanding process of invoicing their clients and is on the ball when it comes to cash flow from that sector. In this case, although both agencies make the same net income, Agency 1 will often show a lower operating cash flow due to its ability to not keep the cash rolling in on time, and when needed. This can lead to the business eventually failing.
Formula for Calculating Operating Cash Flow
Operating Cash Flow (=) Total Net Income (+) All Non Cash Expenses (This Includes Depreciation & Amortization) (+ or -) Working Capital Changes
2. Investing Cash Flow
Cash flow from investing activities represents a company's cash inflows and outflows that are a direct result of the purchases and sales of long-term assets during a specific timeframe. This can include such cash outflows as the acquisition of PP&E/property, plant, and equipment, as well as marketable security investments which includes stocks and bonds, and the purchase of other companies. Investing cash inflow typically includes the proceeds of sales of the above mentioned items.
A business may see a cash flow that is negative in the investing activities section; however, this doesn't always represent a negative impact for the company because the investments may take time to produce a net cash flow, and to add value and growth, and be realized as positive. The investing portion of a cash flow statement is an indicator of how well a company is managing its investments with the goal of maintaining and growing its business.
Formula for Calculating Investing Cash Flow
Investing Cash Flow (=) Gains from Investments (–) Losses from Investments
Take a few minutes to view this outstanding video that discusses investing for cash flow:
3. Financing Cash Flow
Cash flow from financing activities are transactions that include items such as obtaining or paying loans, equity, payments from stockholders, repurchase of stock, or paying dividends, and the like. This section of the cash flow statement reveals the financial strength of a business.
Formula for Calculating Financing Cash Flow
Simple Version
CED – (CD + RP) = Cash Flow from Financing Activities
In-Depth Version
CED/Cash Inflows from Issuing Equity or Debt (-) CD/Cash Paid as Dividends (+) RP/Repurchase of Debt or Equity (=) Cash Flow from Financing Activities
Simple Financial Activities Sample Numbers
Long-Term Debt Proceeds: + $6,000
Company Stock Repurchase: – $3,000
Long-Term Debt Payments: – $2,000
Dividend Payments: – $700
Total Cash Flow from Financing Activities: $300
Since we have discussed the three types of cash flows, let's dive into cash flow statements, which is where you would input the numbers for the operating, investing, and financial activities.
What is a Cash Flow Statement?
A statement of cash flows provides an essential cash flow analysis for a business to review its financial strengths and weaknesses. It makes a note of the cash inflow and outflows (or cash equivalents) of a business during a certain timeframe.
The statement allows the business owners, lenders, investors, and the like, to breakdown and evaluate how well a company is doing with its core operations, where it's obtaining funding from, and how it's being used, as well as if its investment dealings are having a positive or financial impact.
As mentioned, the three main components of a cash flow statement are operational activities, financial activities, and investment activities. Through the plus and minuses of these three elements, a company can determine if they have a positive or negative cash flow, and thoroughly evaluate what it's doing right or wrong, so it can make the necessary adjustments. It's basically a full cash flow analysis that is essential to a company's ongoing success.
Cash Flow Statement Examples
Visit the following Wall Street Journal pages to get real life examples of cash flow statements from companies you may recognize:
How to Maximize Cash Flow
Some businesses look for a way to maintain their positive cash flow, while others are seeking ways to pull their company out of a negative position. Whatever the reason, always striving to maximize your cash flow should be your goal. Below you will find a list of a few ways to maximize your cash flow to achieve a financially healthy business:
Maintain a strict schedule for issuing invoices
Allow for a variety of payment options for your customers
Request deposits for large orders
Provide small discounts for early customer payments
Charge interest fees for late payments
Purchase used equipment
Don't indulge in fancy expensive assets
Sell unused or unnecessary equipment
Offer your products for needed goods and services
Apply excellent accounting practices and bookkeeping
Create frequent cash flow statements
Cut spending where applicable
You can also take a look at this article by Forbes that discusses 15 areas to investigate if you're having cash flow problem.
Cash Flow from Passive Income
In today's day and age, many individuals are moving away from the corporate 9-5 world to work for themselves to create passive income. With that said, we are adding a special section on the best way to create cash flow through passive income.
But first, let's answer an important question – What is passive income? It's income that's generated with little to no effort. Of course, there is effort in the beginning when you are setting things up to have money flow in, and there may be some work to maintain things, but basically, once set up, it should be little work in general. Passive income allows you to avoid the "trading time for dollars" scenario.
Now, let's dive into the most lucrative way to create passive income to achieve the cash flow you are striving for:
Creating Monthly Cash Flow Through Rental Real Estate
Rental real estate is one of the most reliable, easiest, and lucrative ways of creating positive cash flow and building financial independence. Additionally, it allows you to create passive income – it will keep generating income even while you are vacationing.
So how does it work? For those of you who don't have experience with investing in real estate, the best way is to work with a full-service investment company such as Morris Invest. We can provide you with a cash flowing rental property and we do all the work for you. For example, we do market research to find the most profitable rental areas, we do the renovations or new construction, place a property manager for you that takes care of your tenant, and we also have a vetted tenant placed for you. All you have to do is sit back and receive your monthly rent checks – which is the best form of monthly cash flow.
View our video tour of a Texas property that we provided to one of our clients. Also, it's worth noting that you don't have to live in the same state that your rental property sits in since everything will be taken care of for you.
Additional Articles by Morris Invest
Knowledge is power, so take a moment to view some of our additional articles to grow your knowledge base even more.
Let the Power of Cash Flow Grow Your Business and Your Financial Stability!
No matter what type of business you run, analyzing, maintaining, and maximizing your cash flow is essential. Without the proper cash flow, or with cash flow that's in a constant negative state, your business will not survive. However, if you keep on top of it, and take the proper steps to keep your cash flow in good standing, your business has a chance to thrive and grow. For those who are interested in creating monthly cash flow through rental real estate, feel free to schedule a complimentary call with Morris Invest. We would love to speak with you and answer any questions you may have.
Ready To Build Passive Income Through Rental Real Estate?
Ready to talk about your goals? We're here to show you the tools and teach you the process to begin earning legacy wealth for you and your family.