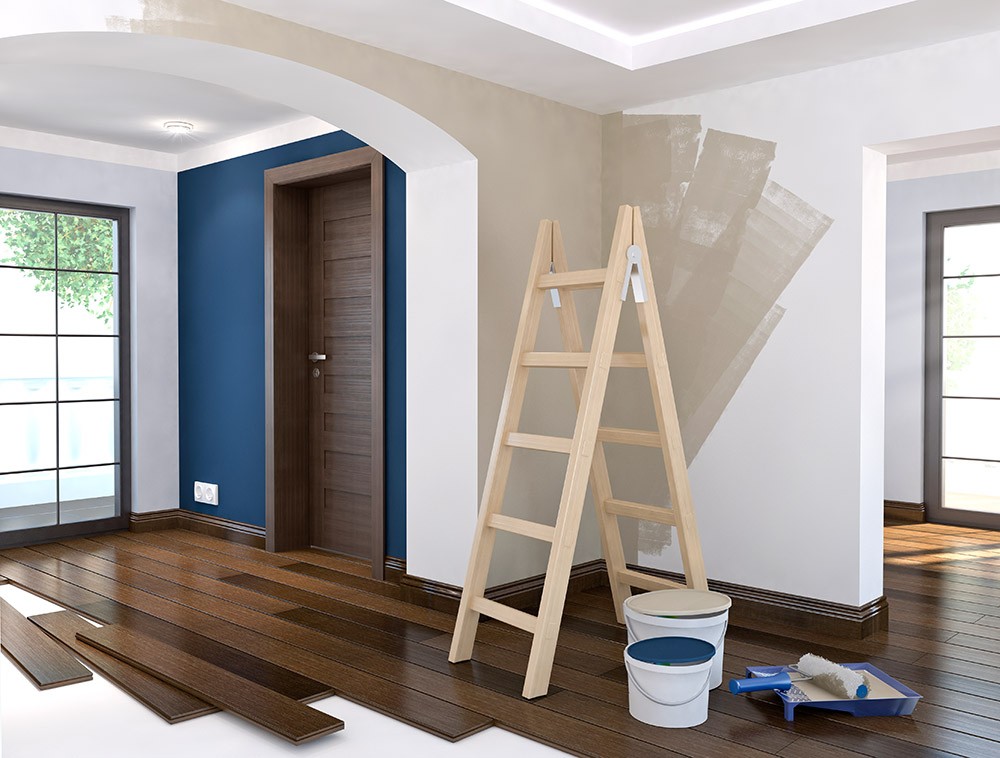 When it comes to renovations, smart real estate investors do the proper research to ensure they make decisions that will have a positive impact on their investment. With that said, if you have just purchased a piece of real estate, or have had one for quite some time, should you renovate your rental property? This is the question we will tackle today, as well as give you some insight into the pros and cons of renovating your rental property, what you should renovate, and more.
Should You Renovate Your Rental Property – It Depends
There may be many reasons why you would want to move forward with renovating your rental property – it's in bad condition, its basic mechanics are old and will chip away at your ROI, or maybe it's just not up to par with the neighborhood. On the other hand, there may be a few reasons not to renovate – the property is in decent enough condition, your budget doesn't allow for it, and so on.
So, the answer to the question, "Should you renovate your rental property?", really boils down to your particular situation. With that in mind, we are going to break down a few essential aspects of property renovations. This should set you on the right path to deciding whether moving forward with renovating would be right for your situation or not. To start, let's dive into the pros and cons:
Renovating Your Investment Property – The Pros
The right renovations can allow investors to maximize their ROI, and add value to their property, among other things. With the main goal being owning a lucrative, cash flowing investment, we are listing a few benefits that investors can take advantage of when renovating their rental property:
1. Property Renovations Boost ROI with Higher Monthly Rent
When you determine a monthly rent price to charge tenants, it's normally based on the rental market and the condition of the property, so you really can't go any higher without justification. That's when the question – "Should you renovate your rental property?", comes into play. If you would like to kick it up a notch, and charge more rent, then property renovations make perfect sense. As for the cost, you will eventually make that up in the higher rent that you receive. After the renovation costs are made up, the higher rent will factor into a higher ROI.
2. Rental Improvements Increase Property Values
Renovations completed on your rental, especially when it was a below the market value property when purchased, can significantly increase its value. You can also call this "forced appreciation". A property may naturally increase in value over time, which could take years, and can be based mostly on the market value. However, you can cut to the chase and instantly increase the value of your rental property with the right renovations.
Here are just a few renovations that can increase your property value:
Replacing Old Windows
Upgrading the Kitchen – Countertops, Cabinets, Flooring
Replacing Shabby Garage Doors
Bathroom Renovations
A Professional Paint Job – Exterior and Interior
Increasing the value of a rental property is a positive thing for obvious reasons, but there is something else that you can take advantage of when you raise the value. Serious investors who want to grow their portfolio can buy a property under the market value, perform the necessary renovations, and then utilize the increased value of the rental by refinancing it, and then taking out a loan. This is then used to fund another real estate investment. There is actually a name for this; it's called the BRRRR Strategy. Read our latest article – The BRRRR Method for Real Estate Investing, to gain a full understanding of the topic.
3. Quality Upgrades Attract Good Long-Term Tenants
Some of the same items that increase the value of the rental property can also increase your chances of gaining a great long-term tenant. Serious renters who are looking for a place to call home for an extended period of time are more likely to sign the dotted line on properties that have curb appeal, quality windows, a nice kitchen and bathroom, and so on.
First impressions mean everything, so a professional paint job can reel them in, and have them feeling good about your rental. Quality tenants who make your rental their home will help keep your ROI on track because nine times out of ten, they will care for the rental as if it weretheir own.
4. Reduces Future Repairs and Operating Costs
One thing to factor in when trying to answer the question – "Should you renovate your rental property?", is if the main mechanics of the house are in good shape or not. Not renovating certain aspects of the property when needed, and having to constantly repair or patch up deteriorating elements, can end up being costly in the long run. It's best to take inventory of what needs to be included in the overall renovation of the property, so you can ensure that your operating costs will be kept to a minimum in the years to come.
You will want to replace your roof if it's in bad shape or close to 20 years old.
Good quality windows can help keep the electric bill down.
Ensure the electrical is up to code.
Plumbing should be in good shape to avoid busted pipes and leaks.
Replace the furnace and water heater, if needed, and you will be good for 10 years.
Hear some words of wisdom on what to renovate from industry expert, Clayton Morris:
When Real Estate Renovations Don't Make Sense – The Cons
There are certain instances, and certain renovations that can end up impacting the investor negatively. This is why looking into whether or not you should renovate your rental property is a wise decision. Here are three things that can be viewed as disadvantages of renovating your investment:
1. Rental Income May be Lost During Renovations
When an investor buys rental real estate, they will most likely wait until the renovations are complete before placing a tenant. This means that if there is a considerable amount of work to do, or if the type of renovations will be time-consuming, there could be a loss of income for an extended period of time. This, in itself, is not a con. However, it becomes a problem if the investor's budget is an issue. If you are not in a place financially to spend money on renovations, while also losing out on rental income for an extended period of time, all while paying the mortgage bill – temporarily holding off on the renovations that are not essential would be your best bet.
Once rental income starts rolling in, and you are in a better place financially, you can tackle whatever renovations are possible while the tenant is in place. Any other renovations that are best done when the property is vacant, can be completed when you are between tenants.
2. Certain Renovations can Appraise a Property Right Out of a Neighborhood
A situation that can cause renovations to become a "con", would be when an investor over renovates to the point where the property is then priced out of the area. Imagine a neighborhood with properties that are renting out for $1,000 to $1,200 a month. Now picture one property in that same neighborhood that has expensive renovations, that would need to rent out for $1,700 to recoup the costs. It can lead to a situation where it never gets filled with a tenant because of the much higher rent. Potential tenants will go for the more affordable rentals in the neighborhood.
This can be the case when a kitchen is renovated with very expensive, real granite countertops, and the rent is raised to compensate. Meanwhile, the house across the street is using Formica laminate countertops, which looks just as good, and the rent is much lower.
3. Combining Bedrooms to Create a Master Suite Can Lower the Property Value
One rental property renovation that is often mistaken for a wise investment, but turns out to be a huge con, is when a bedroom is removed or combined to create a large master suite. It seems like a great idea, because, let's face it, who doesn't love a large bedroom? In reality, additional bedrooms can add value to a property, so removing them can be a turn in the wrong direction.
How Do You Renovate an Investment Property?
If you have decided that you should renovate your rental property, and you're not entirely sure how to get started, review our quick rundown on the topic:
1.Determine Your Budget
First things first, you have to make sure you even have the money to renovate. After sitting down and carefully calculating the funds that are available, you may find that you have enough to do a good amount of renovations. Or, you might find out that you should only make the most important improvements, and will have to hold off on the rest when more money is available.
Once you have your finances sorted out, you will then go through a checklist of what actually should be renovated, repaired, or improved, starting with evaluating the overall condition of the property.
2. Consider the Condition of the Property
It goes without saying that if the rental property is in shabby condition, you will at least need to take care of the items that are needed to make it rent ready. If there is paint peeling, a broken kitchen sink, or the cabinet doors are falling off, then these items will go on your immediate to-do-list. These items are the basics that will ensure your tenant is in a livable rental property that has a presentable appearance.
3. Evaluate the Main Mechanics of the Rental Property
You will also want to check out the main mechanics – electrical, plumbing, windows, roof, furnace, water heater, and so on, to determine if anything needs immediate renovations. Take note of their age and overall condition, and put them on your to-do-list if they need upgrading. Ensuring these main mechanics are in either new or good condition will save you money in the long run. Additionally, switching to energy-efficient items, when applicable, will also cut your costs. Once you have your list of getting the property condition up to par, and the main mechanics that need improvement, you will then look into the rental market to see if there is anything you should be doing to get your property in line with the neighborhood, and the area's current, or future market.
4. Research the Rental Market
You may want to investigate a little further to find out what additional items are worth renovating. The first thing you should do is research the area the property rests in. You would do this to evaluate the rental market, to judge if it's a growing area where your property can potentially be worth more by evolving into a different class neighborhood. If this is the case, it may be worthy of better quality upgrades.
So what do you look for? To see if the property appreciation has the possibility of rising, you can look into the following:
Research the demographic and socioeconomic trends.
Notice if there are a lot of vacancies or foreclosures in the surrounding area.
How is the crime rate – good, going down, or steadily increasing?
How many days have area homes been on the market?
Are you seeing large companies that have been recently popping up?
Check the unemployment rate statistics.
Are the area resident income levels going up, staying the same, declining?
Does the data suggest that the population growth is rapidly climbing?
Are you seeing newer properties or homes with quality renovations in the area?
Based on your findings, you will know better what renovations are worth putting on your to-do-list. For instance, if you realize the area is improving, and it's an up and coming neighborhood, then it might make sense to do some additional renovations; knowing you will be able to charge more in the future. Also, you can always start with the essentials, and wait to see, for sure, if it begins to turn into a different class neighborhood, and then proceed to do the more elaborate upgrades at that point.
5. Hire Reliable and Cost-Effective Contractors
Once you have your final list of renovations, you will want to shop around for professional contractors who have a good reputation for doing quality work, and who have a solid list of references. Find at least three contractors that you think can handle the job and request bids.
6. Determine if Any of the Work Requires a Permit
You're almost ready to move forward, but before doing so, work with your contractor to determine if any of the renovations require a permit from the city. A few examples of renovations that may need a permit are electrical, certain plumbing projects, and changing the structure of the property. If needed, once your permits are obtained, you are ready to move forward with your renovations!
It's also worth mentioning that if you purchase a rental property from a full-service real estate company such as Morris Invest, they will take care of the renovation process, every aspect of it. Plus, they will even place a reliable tenant and property manager. They handle all the details for you. All you have to focus on is receiving your rental income that will come in like clockwork every month. If you have any questions at all regarding getting set up with a cash flowing rental property, feel free to schedule a complimentary call with Morris Invest to discuss things in detail.
Additional Real Estate Investment Articles by Morris Invest
Get ahead of the game by checking out our other articles that focus on rental properties. We have written posts on a variety of real estate topics that can give you a well-rounded view of the subject:
If you are in need of funds for your rental real estate endeavors, you may want to check out our Fund & Grow page for information on how you can get assistance with obtaining unsecured business credit cards. Additionally, we would also like to recommend checking out the Landlord Studio website. We personally utilize this service, and recommend it to everyone. They offer software that allows you to brilliantly track rental income and expenses, it can integrate your bank account for easy transaction imports, allows for real estate document uploads, tenant screening, and much more.
Have You Decided if You Should Renovate Your Rental Property?
Figuring out if you should renovate is actually pretty easy once you realize what questions to ask yourself, and what to evaluate. With that said, we hope you now have a solid answer to the question – Should you renovate your rental property? If you are moving forward with the task at hand, Morris Invest wishes you the very best with your rental property renovations!
Before you go, take a look at this quick video for more details on renovations that you will want to leave off your to-do-list!
Ready To Build Passive Income Through Rental Real Estate?
Ready to talk about your goals? We're here to show you the tools and teach you the process to begin earning legacy wealth for you and your family.