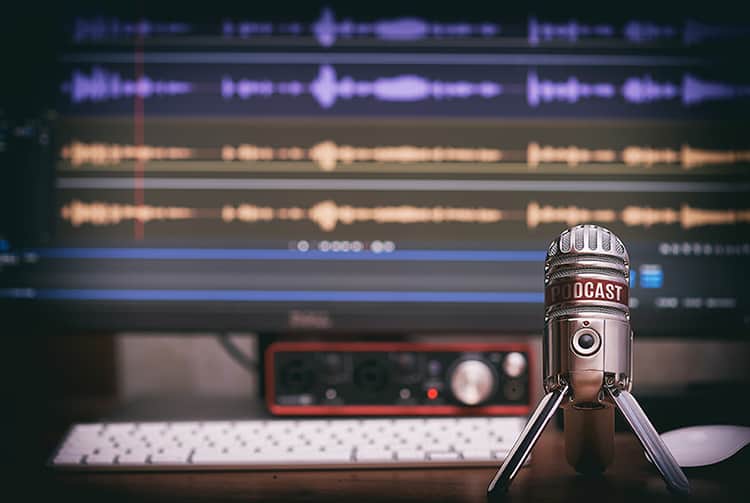 Real estate investing can be one of the most lucrative and rewarding paths to becoming financially independent. The question is, where do you start? It's actually pretty simple. The first step would be to learn the ins and outs of real estate investing through trusted sources and industry professionals. We have compiled a list of the best real estate podcasts for new investors in the hopes of fast-tracking your journey to becoming a successful investor.
Podcasts Provide Real Estate Investment Information You Can Put into Action
If you want to achieve your goal of becoming a successful real estate investor, you have to not only learn the basics, but continually seek out new information and put what you have learned into action. Even long-time investors keep themselves in check and up-to-date by searching for current investment information. In doing so, they stay on top of their game. Plus, this will enable them to find real estate investment tips that could save them thousands on their next deal.
No matter what aspect of real estate you are interested in – rental properties, flipping houses or land, wholesaling, commercial real estate, and so on, our list of real estate podcasts that are best for new investors, as well as seasoned professionals, will certainly have you covered.
Why are Podcasts a Great Way to Learn How to Become a Successful Real Estate Investor?
Obtaining information through podcasts, is without a doubt, one of the best ways to learn how to become a real estate investor. Through these podcasts, you can benefit in the following ways.
The best part of learning via podcasts is that it's really convenient. You can easily find the time to listen to them and start building your real estate knowledge base. This can be done while driving, at the gym, or just about where ever you want. New real estate investors tend to want to pull in as much information as possible. This makes listening to podcasts an ideal situation since they are so simple to incorporate into your daily routine.
The Best Real Estate Investing Podcasts for Beginners
If you're a first-time property investor, or you would just like to fine-tune your investment strategies, you will want to consider our list of podcasts that are best for new real estate investors. This list is an excellent resource for anyone breaking into the business and can serve as an excellent guide to real estate investing.
Our list contains podcasts that focus on real estate investing, as well as shows that branch out to other non-real estate topics. A mix of both will give you a more well-rounded education that you can put into action. Furthermore, it will help you develop the right mindset, which is just as important to your success.
Let's dive into our list of the podcasts we deem worthy of presenting to you!
1. The Investing in Real Estate Podcast with Clayton Morris
This award-winning real estate podcast is an exceptional resource for new investors, as well as seasoned professionals, and everything in between. It's informative, engaging, and will be of special interest to those who would like to learn more about creating passive income through investing in rental properties.
The Investing in Real Estate Podcast was featured on iTunes' New and Noteworthy page, and was also named Inc. Magazine's Top Business Podcast. This defines it as one of the best real estate podcasts out there, as well as a trusted source of up-to-date, relevant, investment information.
The founder and host, Clayton Morris, stands by his belief that the number one way to build wealth and become financially independent, is through real estate, specifically with buy and hold properties. With this in mind, his goal is to help other investors build their knowledge base and gain experience so that they may evolve into successful investors, as well as become financially free, and leave their 9-5 job, if they desire to.
This popular real estate investing podcast provides its audience with a wide range of essential information that they can put into use. This is accomplished through episodes that detail Clayton's real-life investment experiences and interviews with top real estate investors such as Rich Dad's Robert Kiyosaki. Case-studies are also worked into the show, along with current industry news and trends. Additionally, you will find advice on having the right mindset to succeed, as well as valuable tips on just about every aspect of investing in rental properties.
Let's take a look at a sampling of episodes that are featured on the Investing in Real Estate Podcast:
You can listen to the Investing in Real Estate Podcast on iTunes or directly through claytonmorris.com.
You may also want to check out what else this knowledgeable podcast host has to offer new real estate investors. This would include Clayton's helpful Freedom Cheat Sheet. It's a free resource that will allow you to fast-track your ability to create passive income through real estate investing. In addition to this, if your goal is to build wealth so you can finally create the lifestyle you have always wanted, then you should check out his Financial Freedom Academy.
2. The WealthAbility Show with Tom Wheelwright
This highly rated podcast is hosted by Tom Wheelwright, who is well-known for being a leading tax expert. He is also a world-renowned speaker and bestselling author. One thing that makes him stand out as a tax expert, is the fact that he is Robert Kiyosaki's personal tax advisor. Additionally, Wheelwright is a certified public accountant and Entrepreneur Magazine contributor. His decades of experience enable him to provide his audience with proven strategies for paying less taxes and building great wealth.
This show deserves a spot on our list of top real estate podcasts for investors for its unique approach to thinking about taxes. The WealthAbility show frequently hosts guests that are considered today's real estate investor geniuses and top financial advisors. They all come together to help you permanently reduce your taxes, as well as take control of your own money, and head down the path to financial freedom.
Here are a few podcast episodes so that you can hear for yourself how great the WealthAbility show really is:
You can find more incredible episodes on the WealthAbility website, iTunes or Google Play.
If you would like to put some of the WealthAbility show's tax strategies into action, you're on the right path, and we can help. Morris Invest has partnered with Tom Wheelwright to bring to you a way to apply these principles to your real estate investment business. It's called WealthAbility™. Through this, you will gain access to unique money-saving tax strategies. Plus, you will also benefit from an outstanding financial education that will place you on the path to generating the wealth you were intended to.
3. The Forever Cash Life Real Estate Investing Podcast with Jack & Michelle Bosch
If you're looking for expert advice on how to invest in real estate, then you will want to add Jack Bosch's podcast to your favorite's list. Jack is a long-time investor and successful business owner. Additionally, he is a bestselling author and speaker. Jack & Michelle have a passion for educating fellow investors on how to succeed within the real estate industry.
Jack and his wife, Michelle, have gravitated towards a real estate niche, which is land flipping. Through this, they have built their investing business from the ground up. They actually went from zero to 1 million in less than two years. Since then, they have expanded their knowledge base and have over 4,000 plus properties that were bought and sold. This experience has put them in a position of being an authority on all things real estate. This makes it possible for them to pass valuable information on to others.
The Forever Cash Life Real Estate Podcast will give you the know-how to create cash flow. Additionally, it touches on wiping out debt, and becoming financially independent via real estate investments and proven strategies. Learn all about land flipping, home rentals, multi-family investments, commercial real estate, financing, and much more.
Listen to a few episodes and you will understand why we have included this show in our list of best real estate podcasts:
You can listen to more episodes on the Forever Cash Life Real Estate Podcast directly through Jack's website, as well as on iTunes.
It's worth mentioning that Jack has created an outstanding Land Profit Generator 2.0 Program that will allow you to generate money from land investments. Most investors only focus on the actual building itself. However, land flipping is an overlooked, extremely profitable investment strategy. This proven raw land system has helped thousands become financially independent. Check out Jack's Land Profit Generator 2.0 Program and get yourself on the path to financial independence.
4. Lewis Howes School of Greatness Podcast
Climbing to the top of the real estate investor ladder is not just about real estate facts. Having the right mindset is just as important. This is why we have included the School of Greatness to our list of the podcasts that are ideal for the beginner real estate investor. Lewis Howes touches on the other side of real estate investing, and his motto is, "Get out there and do something great!"
Lewis Howes, the host of this incredible podcast, is a bestselling author and successful entrepreneur. In addition to this, he is a former professional football player and world record holder in the sport. One of the goals of his inspirational podcast is to provide listeners with success stories. He accomplishes this by interviewing intelligent entrepreneurs, world-famous athletes, and well-known celebrities. He feels this is a perfect way of letting others know what makes people great.
To get a glimpse into how Lewis Howes thinks and what he wants for others, take a look at one of his quotes. "Your dreams matter because YOU Matter! Never forget that, but you must learn the wisdom, skills and tools to write your own story. Be the hero you were born to be. Start the journey with me because the world needs you my friend!"
Here are a few episodes from Lewis Howes School of Greatness, a show that was named one of the top podcasts in the world!
If you would like to listen to more amazing episodes from the School of Greatness podcast, you can find them on Lewis's website, and also on iTunes.
5. The Wholesaling Inc. Podcast with Tom Krol & Cody Hofhine
Find out how you can excel at real estate wholesaling simply by listening to wholesaling coach Tom Krol, along with Cody Hofhine. Tom is the founder of the Wholesaling Inc. Podcast and he is known for being the top real estate wholesaler in the country. Both Tom and Cody have gained extensive experience in the real estate industry and have created the Wholesaling Inc. Podcast to share their wealth of knowledge with other investors.
They offer a unique approach to real estate investing in which they share examples and step-by-step actionable strategies. Their intent is to explain things in such a way that their audience can easily duplicate their methods. They frequently host guests who explain the specific details of their most recent successful wholesaling deals. This can include topics such as the methods they used to find a property, the process of buying and selling, closing strategies, as well as how much they reeled in on their profit!
Take a look at these episodes that showcase why this show is on our list of the best real estate podcasts for new investors:
If you would like to take action and give wholesaling real estate a try, let expert coaches and investors place you on the path to success through their exceptional wholesaling course. Wholesaling Inc. has mentored hundreds of investors and assisted them in closing their first deal, and continued to work with them for years to come.
Additional Resources for New Real Estate Investors
You may find that you want to learn as much as possible to get a head start on your real estate investment career. If this is the case, there are a few additional resources that you might want to check out.
Our Top Real Estate Podcasts List Will Set New Investors on the Path to Financial Independence!
Our best of the best real estate podcasts for new investors will help you gain understanding into the basics such as "How do I start investing with no money?", or, "Do I pay off debt or invest in real estate?", and other great questions first-time real estate investors may have. These top-performing industry professionals will provide you with essential real estate investing techniques and strategies that you need to reach your goals. We hope that as a new investor, our podcast list will set you on a course to financial freedom.
Ready To Build Passive Income Through Rental Real Estate?
Ready to talk about your goals? We're here to show you the tools and teach you the process to begin earning legacy wealth for you and your family.