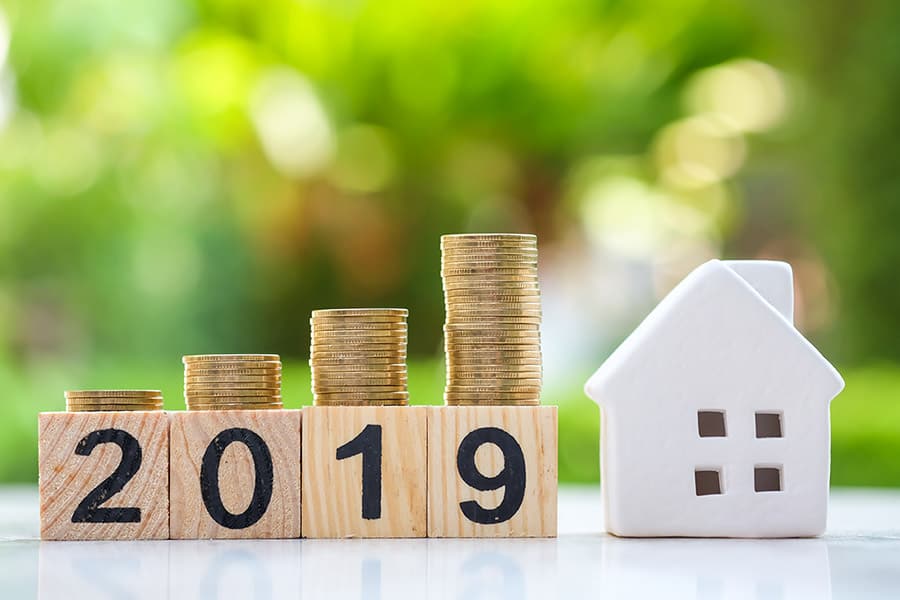 The end of the year is approaching, and with that comes some great opportunities to prepare to make the new year your best one yet in regards to financial independence and living the lifestyle you have always dream about. How is this accomplished? Buy a rental property before the end of the year. It's that simple. There are ways that this can be done quickly and efficiently, just in time to ring in the new year with high hopes for a successful and bright future. Let's take a close look at why buying a rental property before the end of 2019 is a smart idea, and how to go about making it a reality.
Why Buy a Rental Property Before the End of the Year?
You're in the final stretch of the year and may be wondering if it would be wise to dive into that idea you've had for a while now. The idea of owning rental real estate. If you think it's too late in the game because the deadline is approaching quickly, you may want to do a 180-degree turnaround on that thought. This time of the year is actually the best time to move forward with buying rental properties. Additionally, there are other reasons to make the final move and invest in your future. Here are four reasons why now is the time to buy rental property before the end of the year:
1. The Chance to Achieve Your Goals Before the Year Ends
If creating passive income, leaving your day job, and building great wealth by investing in real estate has been a goal of yours for some time, but you never moved forward with it, now is the time! Imagine how fulfilling it would be to accomplish such a rewarding goal, and then slip into the new year with that marked off your to-do list. The best thing you could do for yourself, and your family, is to push forward on your intuition to invest in a rental property before the close of 2019.
2. Start 2020 with the Power of Monthly Cash Flow
Most individuals want to make the right decisions when it comes to their financial situation. This is especially true if they live paycheck to paycheck, have no savings, and are accumulating credit card debt. When this is the case, cash flow from a buy and hold property can turn their financial situation around by creating a steady stream of passive income. If you're in a similar situation, then setting yourself up for financial success, by investing in a rental property, before the new year hits, would be a wise decision.
How much cash flow would you need to be financially independent? This question can be easily answered by finding your freedom number. Your freedom number is the amount of properties you would need to generate to cover all your monthly expenses so that you can quit your day job, if that is your goal. Download our free Freedom Cheat Sheet to find your freedom number and start planning for your future!
3. The End of the Year is the Best Time to Buy Performing Assets
The end of the year, typically November and December, are traditionally slower months for property sales. The hustle and bustle of the holiday season distracts investors, as well as the perception of money being tighter due to holiday spending, can create a lull in investment purchases. In some states, the weather can also come into play. Smart investors know there is less competition during this time, and therefore, better purchasing power. Once December hits, the reasons above are a big motivator to buy a rental property before the end of the year.
4. Invest in Buy and Hold Property Before January for Amazing Tax Benefits
Investing in real estate can provide you with tremendous tax benefits. Additionally, when you buy a rental property right before the end of the year, you may lower your tax burden even further because you haven't had a chance to create any income off the property yet.
The government seems to reward real estate investors. This is because the investor is actually investing in the economy when buying and renting out a property. With this in mind, there are a wide variety of tax write-offs that can lower your tax burden, and also be applied to offset the taxes owed on other income sources you may have.
Here are just a few of the many tax write-off opportunities you may be eligible for:
Interest on mortgage or credit card interest related to property purchases
Property insurance – we recommend utilizing NREIG Insurance Services
Maintenance and repairs
Property taxes
Home office – certain rules apply
Meals and entertainment pertaining to business
Travel expenses – airfare, mileage, as well as vehicle expenses
Legal or professional services such as a CPA or a property management company
Depreciation – real estate investors keep more money in their pockets when they take advantage of the depreciation factor. Additionally, if going in the direction of a new construction property, you can save thousands of dollars within the first year utilizing the power of cost segregation. This allows you to depreciate items that you would not otherwise be able to when buying an existing property. Read all about cost segregation studies to see just how much you can save on your taxes.
To build up your knowledge on how to lower your tax burden, we recommend reading Tax-Free Wealth. It's an excellent book by Tom Wheelwright, the personal tax advisor to real estate giant Robert Kiyosaki.
Easily Buy Before the End of the Year Using a Full Service Real Estate Investment Company
If you don't know how to buy a rental property before the end of the year, and feel there is way too much to figure out, so many things to take care of, and you know this would just be impossible to accomplish before 2020 hits, simply use a full service real estate investment company such as Morris Invest. A full service rental property company will take care of EVERYTHING for you. This removes the stress, burden, and hassle of trying to make it happen yourself. Plus, because they are experts in the field, it ensures no costly mistakes are made during the process.
Morris Invest has a team of professionals with years of experience that can easily take care of all the details, and quickly get you set up to receive a steady cash flow for the year 2020.
Here is just a sampling of what a full service real estate investment company can do for you:
Perform market research to ensure your property is set up in a location that will allow for maximum cash flow, and offer multiple market choices.
Provide consultations on various funding strategies, along with offering a 1031 exchange program, help with self-direct IRA set up, and more.
Assistance with incorporation to receive maximum tax benefits and protect against liabilities.
Offer existing properties that have been professionally renovated, as well as new construction properties built from the ground up. This should include single family housing and multi-family duplexes.
For new construction projects, a full cost segregation study is offered to allow for thousands of dollars in tax savings.
Match up properties with excellent management teams that have already been vetted.
Property will be filled with quality tenants.
Full communication before, during, and after the rental property purchase.
They can recommend many useful real estate investing tools and resources.
As you can see, investing in an income-generating performing asset such as a rental property, has a lot of moving parts to make it happen. The good news is, you really don't have to worry about any of it. A full service real estate investment company such as Morris Invest will take care of every detail for you, making buying a rental property before the end of the year a snap!
Can You Elaborate on Some of the Main Steps Needed that Make Owning a Rental Property a Reality?
There are many steps in moving a real estate purchase forward, but we will just cover a few of the main elements to give you a general idea of how the process works.
1. Decide to Take Action and Get the Ball Rolling Before the New Year Hits
One of the most important elements in buying a rental property before the end of the year is to make a decision to move forward with it. Some investors only daydream of owning rental properties. They imagine the lifestyle they will have once that steady cash flow starts rolling in.
Unfortunately, not all take action on their thoughts or goals, and they stay stagnate in their progress and current financial situation. Our thoughts and hesitations can be the biggest reason that we are held back, along with possible negativity from close friends or family. The investors that move forward and buy a property, are the ones that are living out their dream. It's easy to make it happen, you just have to decide to take action and make it a reality.
2. Contacting Morris Invest for Your Free Consultation
The second most important step is to contact a full service real estate investment company that can handle everything involved in buying a rental property before the new year hits. Book a call with Morris Invest to get the ball rolling and keep it rolling until you get that first rent check in your hands, and can look forward to receiving this cash flow month after month. Let the Morris Invest team of seasoned professionals find or build, fill, and manage a rental property that will set you on the path to financial freedom. The bottom line is that you don't have to worry about how to buy a rental property, all you have to do is give Morris Invest a call, and they will do it for you.
3. Sort Out Your Finances to Determine the Best Way to Fund Your Year-End Investment Purchase
There are many ways to fund a rental property purchase, even when you think you have absolutely no money to contribute. Morris Invest can give you expert advice on which type of funding would be best for your situation.
Here are just a few funding ideas that other Real Estate investors have utilized:
If these options do not apply to your situation, Morris Invest can discuss even more funding ideas with you.
4. Incorporate Your Real Estate Investment Business
It's crucial to incorporate when investing in real estate, compared to purchasing under your personal name. Placing your rental property under an LLC, for instance, will place your personal funds and properties out of reach from potential liability issues. It will also open up a host of tax benefits that you would not be eligible for if you did not incorporate. If incorporating sounds a little intimidating, it's actually pretty simple and Morris Invest can assist you in easily setting up an LLC or other legal entity.
5. Choose Between Renovating an Existing Property or a New Construction Property
Morris Invest specializes in finding lucrative existing properties that will be renovated for you, as well as building new construction properties from the ground up. This generally includes single family homes and multi-family duplexes. Both existing and new construction properties are viewed as incredible cash flow generating assets. Consult with a rental property expert to determine which may be best for you.
6. Decide if You Want to Utilize a Property Management Company
It's recommended that a property management company is used so that your cash flow will be truly passive. This means you won't have to be involved in the day to day operations of maintaining the property. Property management companies know how to run everything in such a way that your cash flow is fully maximized. Plus, they will deal with that broken heater phone call that comes in at 2 AM, not you. Read how using a property management company will boost your revenue. If you would like to have someone else manage your property, Morris Invest will handle this for you. They will take care of teaming a vetted property manager up with your rental property. If you feel you would like to manage your own property, you may want to look into this free online property management software.
7. Fill Your New Investment with Quality Tenants
This is where it all comes together. Monthly rent paying tenants are placed into your very own rental property. Morris invest will take care of this step for you also. Your property will be filled with reliable tenant(s) that have been prequalified. This is one of the last steps in making owning a cash flow generating performing asset a reality.
8. Sit Back and Receive Your Steady Cash Flow Generated from Monthly Rent Checks
Now for the exciting part, where your daydreaming finally becomes a reality. This is where you sit back as rent checks provide you with a steady cash flow, month after month, year after year. Morris Invest took care of making it all happen, your property manager takes care of your property and your tenant(s) moving forward, and you enjoy all the benefits of owning a rental property. You will now be on your way to building great wealth, becoming financially free, and living the life you have always dreamed of.
Get on a Sure Path to Financial Independence by Buying a Rental Property Before the End of the Year!
Now that you know all that's involved in purchasing a rental property, you might agree that leaving it up to the experts to handle every aspect of it, is a smart idea. This especially rings true when you would like to purchase rental real estate within the final month of the year. Our team of rental property experts have assisted hundreds of individuals purchase their properties by the end of the year.
We make investing in rental real estate really easy. We locate properties in an exceptional rental market, renovate them, fill the property with qualified and reliable tenants for you, and manage your rental so you won't have to. While we do all of this for you, you will be able to realize that your dream is finally coming true. Schedule a call with Morris Invest so that you can make buying a rental property before the end of the year a reality!
Ready To Build Passive Income Through Rental Real Estate?
Ready to talk about your goals? We're here to show you the tools and teach you the process to begin earning legacy wealth for you and your family.