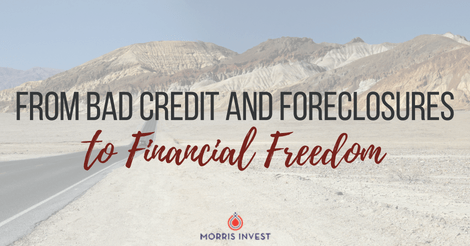 On the podcast, we've shared many details about our family's personal investment strategy. We've discussed how we've attained financing, and dissected deals we've considered. However, we've never really shared our past, including how we got to where we are–until recently.
In this series, Natali and I sat down to recount our entire story, including how we eventually reached financial freedom via real estate investing. You'll learn our struggles, triumphs, plus exactly how we expanded our portfolio and ultimately purchased fifty rental properties in a few short years.
Part 1: How Clayton Went Through Foreclosure and Destroyed His Credit – In the first part of this series, Natali and I sat down to share my real estate failures in-depth. I discussed my history, personal challenges, and the lessons I learned through the process. I'll shared the details about how an investment went belly up, and how I ended up with my bank accounts frozen. You'll learn how I wrecked my credit, and the important lessons I learned along the way.
Part 2: Why Natali Made a Big Mistake Buying an A Class Property – On this episode, Natali took us back to her childhood and early career. She explained her family's background in real estate investing, and the mistakes she made with her first rental property. You'll learn about the complications that arise from A class rentals, and the importance of investing in landlord friendly states.
Part 3: Hitting Rock Bottom – This episode is about our family's history—including how we hit rock bottom, financially. We opened up about losing our jobs, and how we finally decided to start implementing change and living life on our own terms. You'll learn about the resources that helped us, and the major paradigm shifts that occurred.
Part 4: How to Build a Real Estate Investing Plan – On this episode, Natali and I are explained in detail how we began successfully purchasing rental real estate. We shared the details of our first investments, and talk about our fears and hesitations at the time. We elaborated on how our balance sheet has drastically changed in just five years, and why single-family homes work so well in our business.
Part 5: How to Scale from 1 to 50 Houses – We wrapped up the series discussing how we expanded our portfolio, and ultimately purchased fifty rental properties in a few short years. In this episode, you'll hear Natali and I discuss all of the strategies we used to grow our real estate portfolio. We talked about the multiple ways to access cash, the importance of the balance sheet, and reaching our Freedom Number.
Part 6: High Level Ninja Tricks for Real Estate Investors – We thought we were wrapping up this series about how we reached financial freedom and became full-time real estate investors. But then we realized it would be a huge disservice to you to leave the impression that after we reached our Freedom Number, everything was rainbows and unicorns. Real estate is passive to an extent, but there are a lot of systems we've had to put in place in order to make our business run smoothly. On this bonus episode, Natali and I sat down to talk about all of the intricacies of running a real estate business. We discussed finding the right legal and tax teams, our experience with setting up trusts, and other high level investing tips and tricks!
Ready To Build Passive Income Through Rental Real Estate?
Ready to talk about your goals? We're here to show you the tools and teach you the process to begin earning legacy wealth for you and your family.