Most people know that the number one way to build financial freedom is through real estate.
But the problem is most people don't know how. 
When they try to do it on their own they end up confused and frustrated. 
That's why we founded Morris Invest. We believe that everyone should have the right to this opportunity. We've helped hundreds of people buy their first rental property and we've renovated thousands of homes and filled them with happy tenants. 
We've helped many people buy their first investment property and we've helped many seasoned investors build their portfolio of properties. With any investment there are going to be some commonly asked questions. In our many years of business we've heard many of the same questions over and over again. We decided to compile a list of our most frequently asked questions in no particular order. If you don't see your question here then please feel free to drop us a line.
How does your process work?
We like to start by getting to know you better, and invite you to do the same. That's why we typically schedule a phone call — we can answer your questions right away and it helps us get a sense of your personal situation.
Getting a feel for your situation is important because, even though we have a proven system, we take you through a customized path within that system. What works best for one client might not work best for another. As soon as we know where you're at (from newbie to seasoned pro) and what you're working with, we can guide you on the best course of action so you reach your goals faster and with less hassle.
If one or more of our properties meet your needs, we'll walk you through the entire process from pre-purchase and beyond. It doesn't matter if you want to use a Self-Directed IRA or some other financing option — we can help make it happen!
What should I expect prior to closing?
While the title company gets everything ready to close you'll want to set up insurance on the property. We will provide you with the name and number of a company that handles policies for most of our personal rentals. Totally up to you if you want to use them or not. Our property management company will also get everything set up for you to receive your rent checks (mailing address, etc.)They will also send you a copy of the tenant lease agreement. That's about it!
Do you work with property managers?
Of course we do. It's the only way we do business. We work with a few different great property management companies and will refer you to them upon request.
How do your property managers screen tenants?
They do full criminal background checks on potential tenants. They also check credit and verify current employment. Additionally our property managers verify rental history by talking to previous landlords to confirm on-time monthly payments. We have great tenants in our properties that tend to stay for many years.
Clayton Morris founded Morris Invest around a simple three step wealth plan.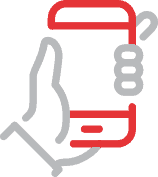 Schedule a quick phone call with our team so we can learn about your investment goals.
You don't have to go out and search for a house. We select a property for you from one of our great rental markets as soon as one becomes available.
Rely on our expert team to take care of the rest while you take in steady monthly rent from your property.
Are you failing to build financial freedom?
Are you worried about making costly mistakes with a vacant rental property? Are you intimidated by the thought of doing it all yourself?